Have you lost a loved one or been badly injured in an incident or accident in Chicago caused by the negligence of a person, company, or group of people? Filing a lawsuit against the culprit is the best option to get a settlement for you and your family. By doing so, you can ensure your peace of mind and improve your chances of recovery.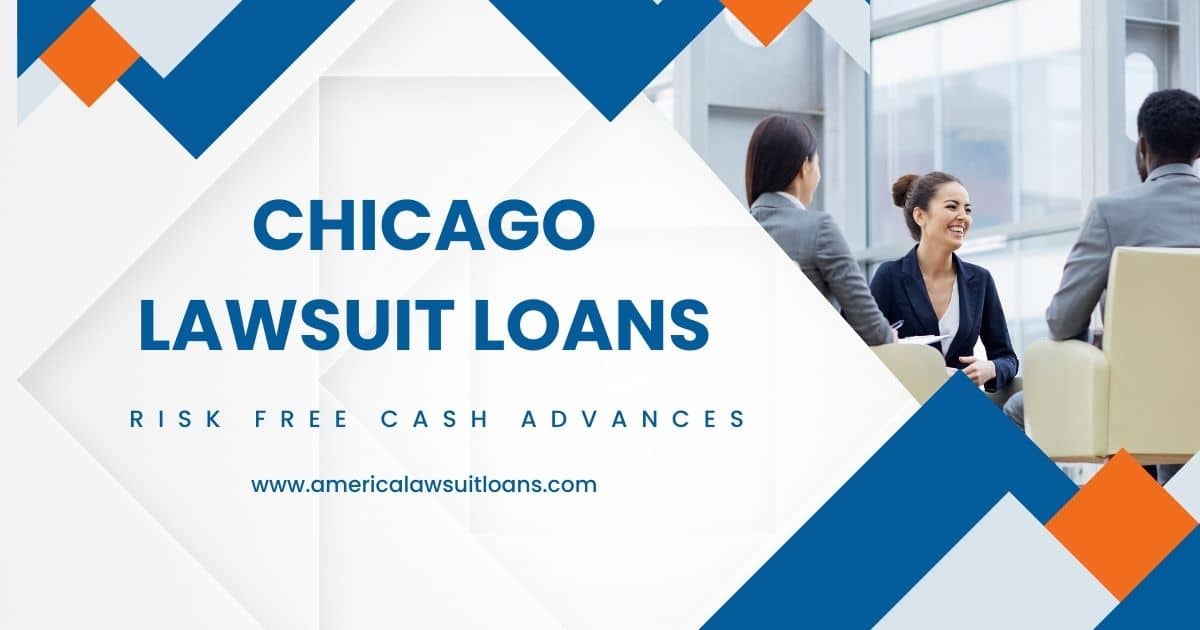 Legal claims take time to settle. It is one of the major drawbacks of getting involved in a lawsuit and waiting for a settlement. According to the circumstances and cases, you might have to wait several months or even years to get the needed cash. But now with lawsuit loans in Chicago, you can easily get a cash advance on your pending lawsuit and use the money to pay off your medical bills, expenses, and daily living costs until you settle your case. Lawsuit funding is offered to plaintiffs only when they have a valid injury claim.
What is a lawsuit loan in Chicago, IL?
A "lawsuit loan," as the term says, is a type of cash advance given against a pending court case in Chicago, IL. These funds are only for people who are currently in pending cases and need urgent money to pay bills and fees. Since we offer a cash advance against your lawsuit, you only need to pay if you win the case and the court orders come in your favor.
As we provide non-recourse loans, you get a risk-free cash advance you can use right now and repay after winning the settlement. In the event you lose your claim, you will not owe the lending company anything. We offer the lowest interest rate lawsuit loan, but the interest rate varies from case to case; to determine it, we need to first assess your case. So apply online or call 888-335-3537 to know the interest rate on the lawsuit loans in Chicago.
Cases That Are Eligible To Receive Pre-Settlement Loans in Chicago, IL
Why Should You Take Chicago Lawsuit Loans From Our Company?
We have been in the segment of litigation funding for over a decade, and we have successfully funded more than ten thousand claims. Our company is well-reputed for fair practices and transparency. We offer loans only on the merits of the case; therefore, if you have an eligible case, you will only receive a cash advance. Some of the benefits of taking lawsuit loans from our company are:
Get Funds Quickly
Our funding process is quite simple. If you have an injury lawsuit, a car accident lawsuit, a medical malpractice lawsuit, or any other personal injury claim in Chicago, you are eligible to apply with us. Once you apply, we quickly review your case, and depending on its strength, we offer you a lump sum, which you can get after signing a contract with our lawsuit loan company.
Risk-Free Cash Advance
No major bank or lending institution can offer you a risk-free cash advance. We provide you with money after assessing your case, making your case collateral here. Therefore, if you lose the case, you will owe our company nothing.
No Credit Check
When applying for a loan from a bank, a credit check and past credit score are required, but with a lawsuit loan, you do not have to go through this lengthy process. We don't ask for your past credit rating; only your pending court case will determine whether you will get a lawsuit loan in Chicago or not.
What You Can Do With the Money
Mainly people who apply for lawsuit loans need money for pending bills, here is a list of things on which you can spend your lawsuit loan, but they are not limited to it
Use pre-settlement lawsuit money to pay for
Medical bills
Legal fees
Car Repairs
Child care
Loan repayment
House rents
Surgery cost
You can use the money for any day-to-day expenses since we have no obligation on how the applicant should use the lawsuit loan once they receive it. "You can use it for any personal expenses."
Apply Today For Chicago Lawsuit Loans And Pay Your Pending Expenses Easily
If you are looking for a fast and easy solution for your needs related to a personal injury lawsuit, you have landed at the right place. At America Lawsuit Loans, you can get cash advances immediately to pay off your bills and recover faster without having to worry. We are known for offering a very simple approval process. You can get complete peace of mind and lawsuit funds in a couple of days so that you can prioritize things that matter in your life.
Keep in mind that you owe nothing to us until your case is settled and you get your settlement amount. Repayment is done in a lump sum as per the settlement award. There is nothing to worry about in terms of monthly payments or upfront costs. Focus on your priorities after life-changing, serious injuries, i.e., your health, family, and recovery.