In an accident involving a bus, many people are injured and, in some cases, even killed.
If you were involved in such an accident, you might be able to file a claim against the bus driver or the bus company that owns the vehicle if you can prove their negligence caused the accident.
However, getting your life back together after being involved in such an accident takes time and money, so filing a claim may not be feasible for everyone.
What are bus accident lawsuit loans?
Lawsuit loans are a common way to finance the lawsuit process, and they offer financial relief while you are waiting for the lawsuit settlement or verdict.
These loans do not require a personal guarantee, so your home or other assets will be safe in most cases.
This type of loan is only available to plaintiffs involved in pending lawsuits where liability is established, and fault can be proven.
Anyone can apply for lawsuit loans, even if you are self-employed, unemployed, on disability or retired.
When applying for this type of loan, it's important to work with an experienced attorney working on a contingency basis who specializes in these types of legal matters, before finalizing any decisions.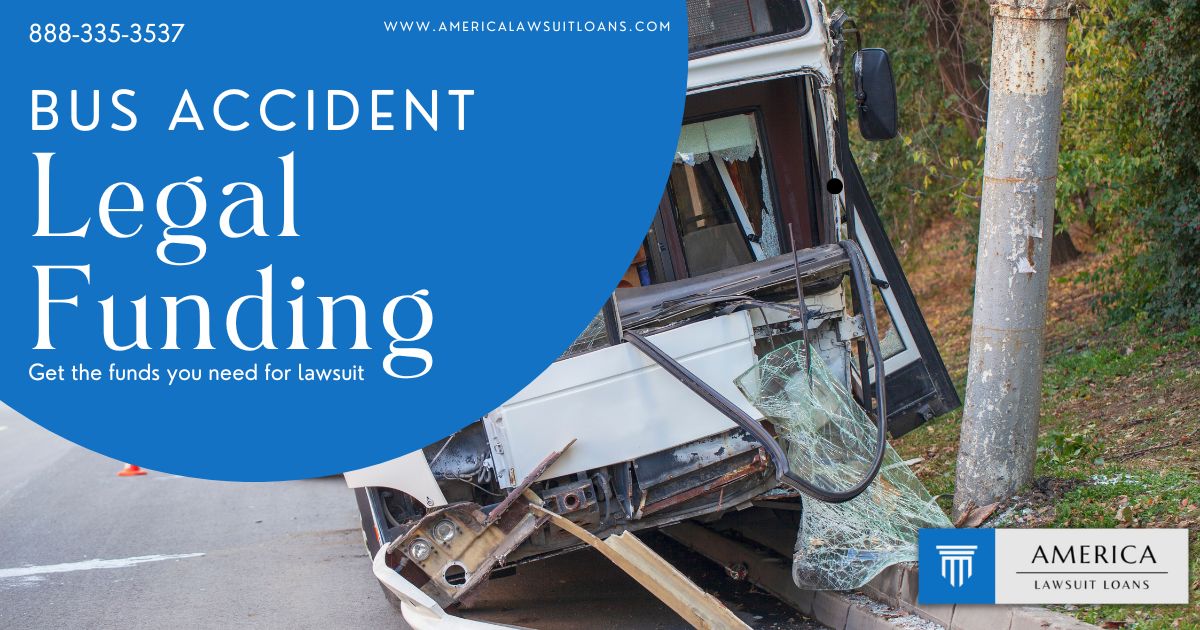 How bus accident legal funding works?
Lawsuit loans provide business funds to plaintiffs involved in a bus accident lawsuit who are unable to use other financing options.
These lawsuit loans can be secured by a plaintiff's prospective damages and help allow for the upfront funding of any necessary costs related to the suit.
Should you take a bus accident lawsuit loan?
If you're asking this question, then chances are you've been in a bus accident and are looking for help.
Getting financial assistance after an accident can be difficult because it's not the kind of incident that typically leaves you with a lot of cash on hand.
That's why bus accident lawsuit loans are so important to victims who want their day in court.
If you were injured in a public transportation vehicle accident, then a lawsuit loan may be your best chance of getting the money you need to fight your case.
Types of bus accidents that qualify for legal funding
If you or a loved one was injured in a bus accident for which the bus driver was negligent and has not paid medical bills or ongoing medical treatments, then you may be entitled to monetary damages.
These legal damages come in various forms, including compensatory, punitive, special, and more.
The first step in this process is to seek an attorney's counsel and have them collect your claim on contingency with no upfront costs of any kind.
Next, they will review the incident with you in detail while discussing what you will need to support the lawsuit with relevant documentation, such as police reports and other evidence that can be shown by an expert who agrees that there was negligence at play on behalf of the driver.
How much can you get from pre-settlement funding for a bus accident?
Legal funding is a great way to make ends meet while in the middle of litigation.
You can use pre-settlement funding to help you with your everyday living expenses while you wait for your settlement.
For example, you could use the funds to pay your mortgage or rent payments or purchase necessities such as food and medicine.
But how much can you get from a pre-settlement loan?
We can offer $500-$100,000 lawsuit loans at between 12%-30% APR.
Our legal financing experts will work with attorneys to verify all case documentation before authorizing any release of funds – with few exceptions in most cases, among these being bankruptcy, judgments, and active lawsuits against the applicant's name.
Apply for bus accident loans and get cash advance in 24 hours
Many times, people who have been in an accident with a big commercial vehicle, such as a bus or truck, are injured to the point where they cannot work right away.
If you are in this situation, you may be able to take out a lawsuit loan to help you through your time of need until your case settles or goes to trial.
If you've been injured in an accident on the bus, you may be entitled to money to help with your medical bills and other expenses while you are recovering.
In order to get paid this compensation, however, you have to file a lawsuit against the company that owns or operates the bus, as well as its driver and/or vehicle manufacturer.
But lawsuits are costly, and fighting against big brands in a commercial vehicle makes them tougher. Using legal funding for a bus accident claim, you can pay the attorney easily and make your case strong.
Apply with us today.