Most ridesharing apps have made life easier for people. Lyft and Uber are among the biggest platforms for taxi booking. But accidents are common in the United States, and if you are one of the victims who suffered injuries because of the negligence of the cab driver, then you are in a legal position to file a claim against the Lyft provider. The law states that for anyone who suffered injuries while riding a cab, the taxi company has to pay for the damages to the victim. In this case, since Lyft is the provider, the damages will be covered by Lyft. But it is not easy to get compensation from them, you have to go through legal representation to get the money. Since lawsuits are costly no one wants to pay from their own pocket, therefore we have legal funding for the Lyft accident.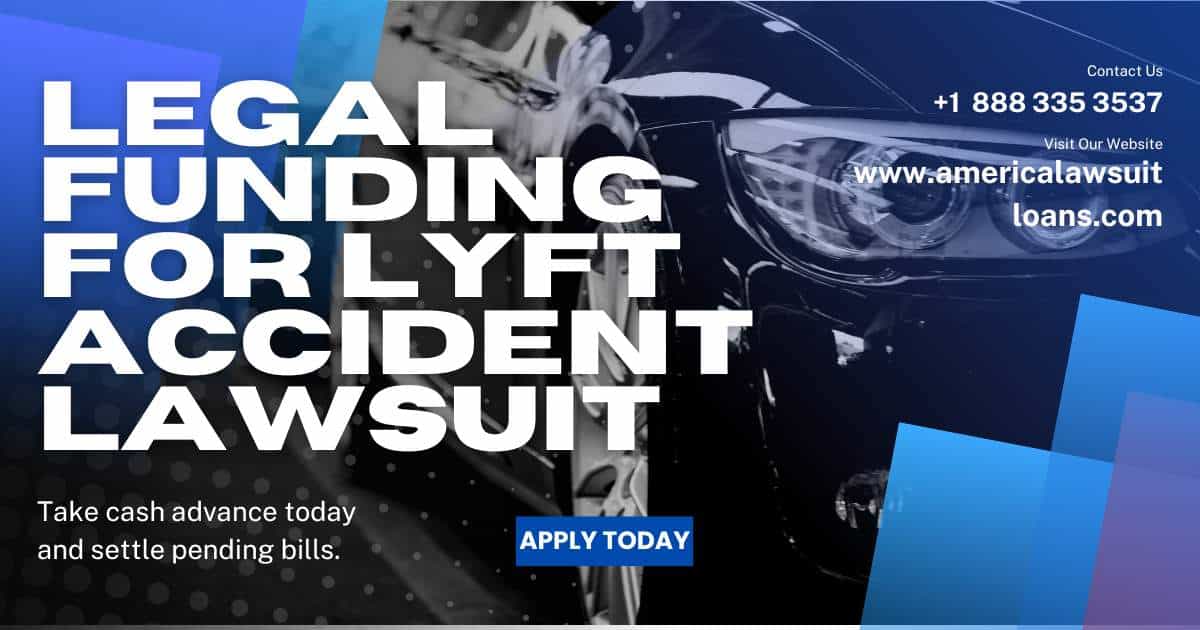 Our Lyft legal funding is a kind of lawsuit loan that is only given to you if you have been injured in an accident while riding a Lyft cab. We provide quick and easy lawsuit loans for your Lyft accident so that you can recover from the financial issues you are facing during a pending lawsuit. These funds you can use to pay for medical bills, monthly expenses, and any more bills and fees.
Benefits of Taking Legal Funding Against Lyft Accident Claim
People who have suffered injuries because of the wrong driving of the Lyft driver or because of someone else negligence, have to wait for years to get a fair settlement through court. Companies try their best possible to delay the case so that the person gets fed up or exhausts all their savings and agrees to an out-of-court settlement with a lowball offer.
But with the Lyft accident lawsuit loan, the plaintiff can get the money they need to keep up with the legal fees and attorney bills. Even the claimants can use the money to fix their health by paying for surgeries and medical bills. Since it s a risk-free method to get a cash advance for the accident, you can have no worries about its repayment, as it can be easily done, once you win the settlement, and if you don't then also you don't have to pay for anything.
On the other hand, Lyft car accident loans can help attorneys also as they get the financial cushion to keep the case going and make it more strong by taking expert advice and paying for it using pre-settlement funding.
How Much Settlement Loan You Can Get From Our Company
The amount which we can offer to you for your Lyft accident claim completely depends on the strength of your case, the severity of the injuries and the expected value of the settlement. We can fund the applications for anywhere between $500 to $100,000. The more strong your case is performing the higher your chances of you getting a lawsuit loan of higher value and lower cost.
Apply With Us Today And Ease Your Financial Struggle After The Lyft Accident
Our lawsuit loan company has a very simple and straightforward process of offering a cash advance against Lyft claims. To apply with us all you need is to fill out the contact form with asked details if you find a telephone call more appropriate then call us at (888) 335-3537. Once you share your attorney details who is handling your Lyft accident case we will approach them to understand in-depth about the lawsuit, based on the internal review we will offer you a lump sum which you will receive in a couple of days after signing a contract of terms with us. The terms are very simple you take the funds against the lawsuit in exchange you forfeit a portion of your settlement to us, further to make it easier for you we have been giving only non-recourse cash advance, which only needs to be repaid if you win the case and in case you lose, you owe us nothing. So why worry about cash after an accident, when we are here to help you with Lyft accident loans? Apply with us today!