Everything You Need to Know About Juul Lawsuit Loans
In 2018, JUUL was hit with one of the largest class action lawsuits to date, with close to 200 plaintiffs filing claims against the company.
These plaintiffs claim that JUUL deliberately appealed to minors and helped fuel an addiction epidemic among teens and young adults in America.
As a result, they are seeking damages from JUUL as well as suing to put an end to the company's dangerous conduct and deceitful marketing practices.
Why Is Juul Facing So May Lawsuit?
Juul, a cigarette-sized device with a fruit-flavored nicotine pod, is facing so many lawsuits that the company has lost over $1 billion in market value.
This is due to the increasing number of injuries and deaths related to vaping devices like Juul.
These cases are tough because many variables are at play: FDA vs. local governments, individual and class action lawsuits, product liability cases, etc.
Thus far, the lawsuits have led Juul to pay out over $438.5 million in settlements.
Who Qualifies For Juul Class Action Lawsuit Loans?
Like other competitors in the e-cigarette market, Juul also offers a variety of products, including pods with flavors such as tobacco, mango, vanilla cream, and fruit medley.
Now, they're facing a new lawsuit from families of minors who allegedly became addicted after using the product.
Qualifying members of this lawsuit will be entitled to get money back if their suit is successful.
To qualify for a Juul class action lawsuit loan, you must meet these requirements:
You are 18 or older and have suffered damages or been injured due to Juul usage
Juul nicotine has potentially caused addiction in your children below the age of 18
You are currently residing in the United States
If you were 18 years old or younger when you first started using Juul (you are considered underage); then parents can file a lawsuit and qualifies for pre-settlement funding.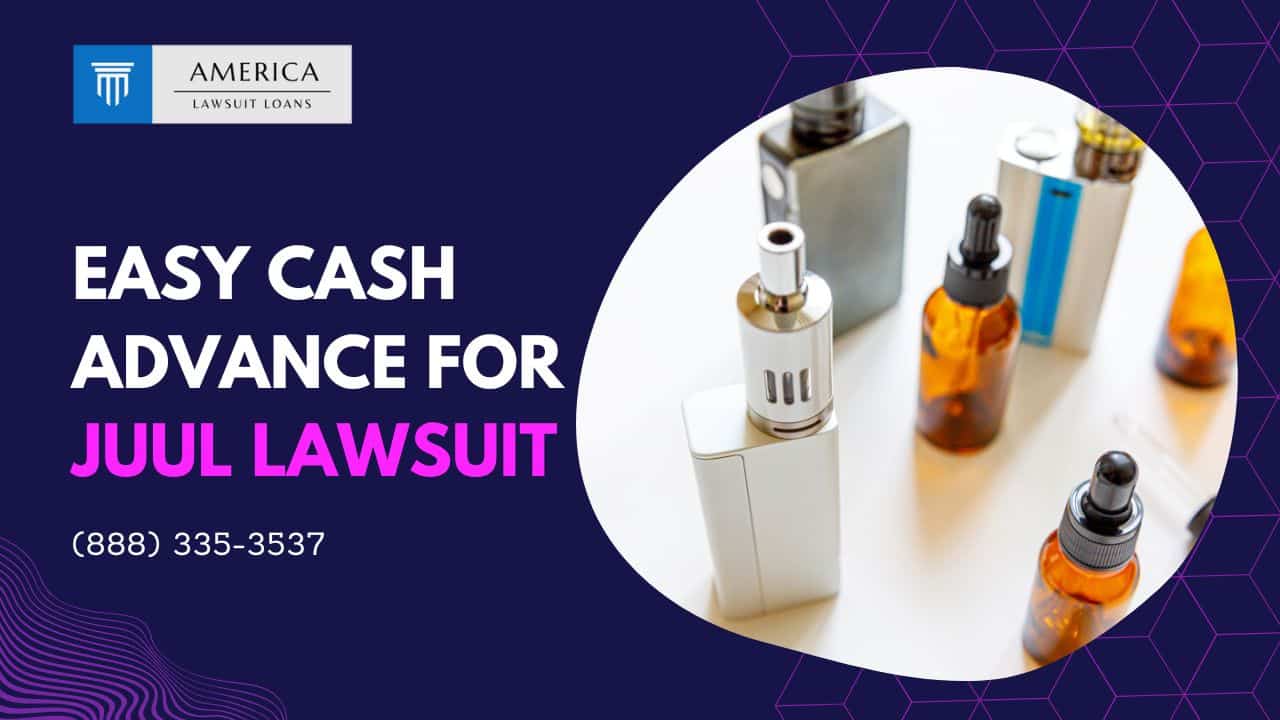 The Process
Many key steps are involved in the Juul lawsuit loans process, which begins with a borrower filling out an application.
The applicant is then required to provide background information, including their credit score and work history. Those who wish to find out how much they qualify for will need this information on hand.
Next, underwriting takes place, and the applicant (or your attorney) may be asked to supply more case-related information.
Once those qualifications are fulfilled, borrowers can get the Juul lawsuit loan amount they have been approved for, up to $100,000 or more!
One big advantage of getting this type of loan is that it allows people with less than perfect credit scores to borrow money.
What Happens If I Lose The Case?
Unfortunately, if you are not successful in the lawsuit process, there are very few alternatives for recovery.
This is where a lawsuit loan can provide you with an excellent option; since they come with a non-recourse feature.
"No Win, No Pay"
A lawsuit loan will allow you to get the funding needed for litigation and attorney fees without having to worry about waiting for a reimbursement after settlement or judgment.
Using a lawsuit loan has many benefits, including no collateral requirements, low-interest rates, and quick approval.
However, be careful when considering what amount to borrow as it is easy to borrow more than you need, which could cause you some issues later on.
If that happens, your credit may be negatively impacted, making it difficult for future borrowing needs.
Interest Rates On Juul Lawsuit Funding
When applying for a JUUL lawsuit loan, the APR will depend on your credit score and the money you want.
Interest rates for good credit are 12-36%, but rates range high for those with bad credit.
The rate depends on the amount of money borrowed and the credit score.
For example, someone with an excellent credit score can borrow up to $5,000 with a 12% APR.
Factors That Determine Amount For JUUL Lawsuit Loan
A JUUL lawsuit loan can be issued up to $1,000 – $100,000  as long as you have an active settlement case against one of these companies: Altria Group Inc., Imperial Brands PLC, Philip Morris International Inc., or British American Tobacco (Investments) Limited.
The amount of your loan will depend on various factors like your monthly income and if your health insurance has issues with certain medication treatments.
But don't worry! Your injuries from smoking-related diseases and illnesses should qualify you for a large settlement – even without any past medical history!
And the repayment terms are fairly flexible.
Further, the strength of the case and the severity of the injuries also decide how much cash advances you can get.
Apply For E-cigarette & Vape Lawsuit Loans
Juul lawsuit loans, otherwise known as Juul class action lawsuit loans, are financial agreements that give plaintiffs the money they need to take legal action against Juul's manufacturers and distributors.
These lawsuits were filed in response to Juul's e-cigarettes, which, despite promises that they are designed to help people quit smoking, have led to an increased rate of nicotine addiction among teenagers and young adults.
Juul lawsuit loans are available to anyone affected by the recent FDA ban on vaping products containing nicotine.
Juul lawsuit loans can help you buy the new product you're craving while giving you time to apply for other forms of credit, like personal loans and credit cards.
Of course, it's important to understand how these types of loans work before you sign on the dotted line, so contact us to know more about the application process!
Simple Steps For Approval
The loan approval process for JUUL lawsuit loans is very straightforward.
To begin, the applicant must submit their basic information, including litigation & attorney details.
Next, the applicant will be asked a series of questions relating to their JUUL usage.
From there, an approval amount is calculated based on your specific situation.
Lastly, the loan is funded within three days of approval.