Loans for Victims of Nursing Home Abuse: What You Need to Know
If you or someone you love has suffered from abuse in a nursing home, then you may be eligible to receive financial compensation through an elder abuse lawsuit.
Nursing home abuse has reached epidemic proportions in the United States, with some estimates putting the number of victims at over 1 million per year.
While most states have laws protecting nursing home residents, the vast majority of cases go unreported, and only 3% of victims ever receive compensation.
With nursing home abuse lawsuit loans, victims have the opportunity to get the financial support they need to pay for medical bills and other damages while they wait for their case to go through the legal system.
Why do people file a lawsuit against nursing home abuse & neglect?
There are many reasons people might file a lawsuit against a nursing home for abuse.
Maybe they were injured while in the facility's care.
Maybe they witnessed another resident being abused.
Or they found out that the facility was neglecting its residents.
Whatever the reason, if you're considering filing a lawsuit, you may be wondering if you can get a loan to help cover the costs.
Unfortunately, there aren't many options available. To qualify for a lawsuit loan, your case needs to be strong enough that it's likely to win in court – and lenders are unlikely to approve loans with such high-risk profiles.
But here's what you need to know about lawsuit loans designed specifically for nursing home abuse victims.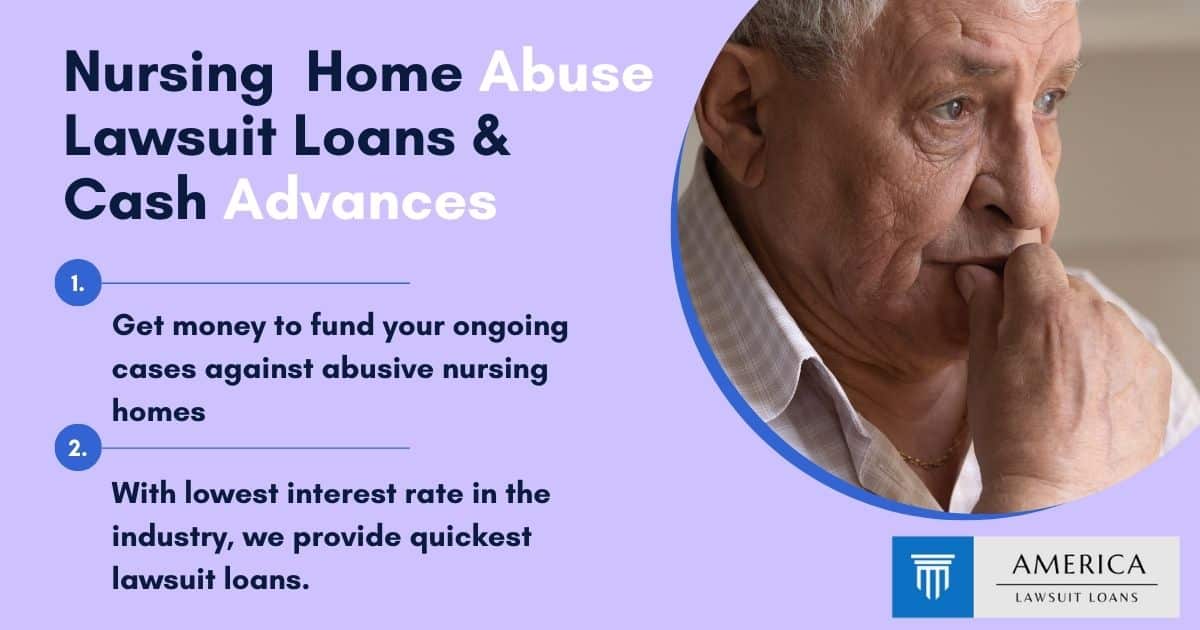 Different types of abuse elderly face in a nursing home
Nursing home abuse is a serious problem in the United States.
According to a National Center on Elder Abuse report, nearly one in ten nursing home residents are abused each year.
Elderly patients in nursing homes are especially vulnerable to abuse and mistreatment.
Unfortunately, this type of abuse is all too common and often goes undetected.
The most common types of abuse include
physical abuse,
emotional abuse,
sexual abuse,
financial abuse, and
neglect.
If you or a loved one has been a victim of nursing home abuse, you may be wondering if you can get a loan to help pay for legal expenses.
The Role of Government Agencies in Protecting Elderly People
Government agencies like the Department of Health and Human Services (HHS) are responsible for protecting elderly people from abuse.
One way they do this is by investigating abuse complaints and taking action against perpetrators.
Unfortunately, nursing home abuse is still a problem in the United States. Every year more than 5 million cases of abuse in nursing homes are reported.
Financing lawsuits against nursing homes
If you or a loved one has been the victim of nursing home abuse, you may be considering filing a lawsuit.
But how do you finance such a lawsuit?
The best option is a lawsuit loan. A lawsuit loan can provide funds upfront to cover expenses and court costs before your settlement is finalized and you are awarded damages.
With this type of financing, you only repay if you win your case. Otherwise, the borrower does not have to pay back any money until their settlement amount is determined in court after their trial ends or the case settles out of court.
America Lawsuit Loans provide plaintiffs with upfront cash so they can proceed with their lawsuit without having to worry about expensive expenses at every turn of their case process.
The process involved in getting lawsuit loans
Nursing home abuse lawsuit loans are a type of legal financing that can help victims of nursing home abuse pay for their attorney fees and other related expenses.
If you or a loved one has been the victim of nursing home abuse, you may be eligible for this type of loan.
To get lawsuit loans, you need to fulfill the below criteria
You need to have an ongoing lawsuit against the nursing home for abuse and neglect.
An attorney must represent your case and work on a contingency fee basis.
Your attorney agrees to share the needed proofs and documents for cash advance approval.
Inform your lawyer that you applied for a lawsuit loan
Your lawyer will inform you about the pros and cons of appealing a ruling.
In many cases, it is in your best interest to settle out of court instead of continuing with litigation that could take years.
Settling early means that you can get back on track with life sooner rather than later while avoiding hefty bills from both attorneys' fees and time off work, as well as emotional stress caused by fighting for justice over the course of several years.
However, settling early can mean missing out on other benefits, such as compensation for damages or recognition that may come from a trial.
Apply For Lawsuit Loans. It's a Simple Process.
Victims of nursing home abuse may be entitled to compensation through a lawsuit settlement or jury verdict, but they need to be able to pay their attorney and court fees first.
That's where litigation funding comes in – providing nursing home abuse lawsuit loans to victims of elder abuse so they can pursue justice without being forced into bankruptcy before the trial even begins.
To apply, all you need is to provide the following information (name, email address, phone number)
If you would like, we can even call you to go over the application process and answer any questions that may arise before filling out the application form and submitting it online.
Fill in all the required fields on our easy-to-use nursing abuse lawsuit loan application form with just a few clicks of your mouse.