It's Easy Now To Get Slip And Fall Settlement Money With Lawsuit Funding
A slip and fall accident is one of the most common personal injury accidents that can hugely impact a person, not only physically but also financially. An injury caused by a slip and fall accident can lead to muscle tearing, broken bones, and even permanent disability. These injuries can also lead to lost wages and cause financial troubles. But if you have suffered injuries because of someone else's negligence, then you must ask for compensation. Use slip and fall accident loans to cover legal expenses and get a fair settlement amount.
America Lawsuit Loans is a well-known pre-settlement funding company that offers slip and fall accident lawsuit funding at the lowest interest rate. We can provide financial help to people with a pending slip and fall accident settlement. Lawsuits are expensive and time-consuming, and many settle their cases with lowball offers in the absence of cash. But now, with pre-settlement funding against your slip and fall lawsuit, you can easily cover the legal as well as medical expenses.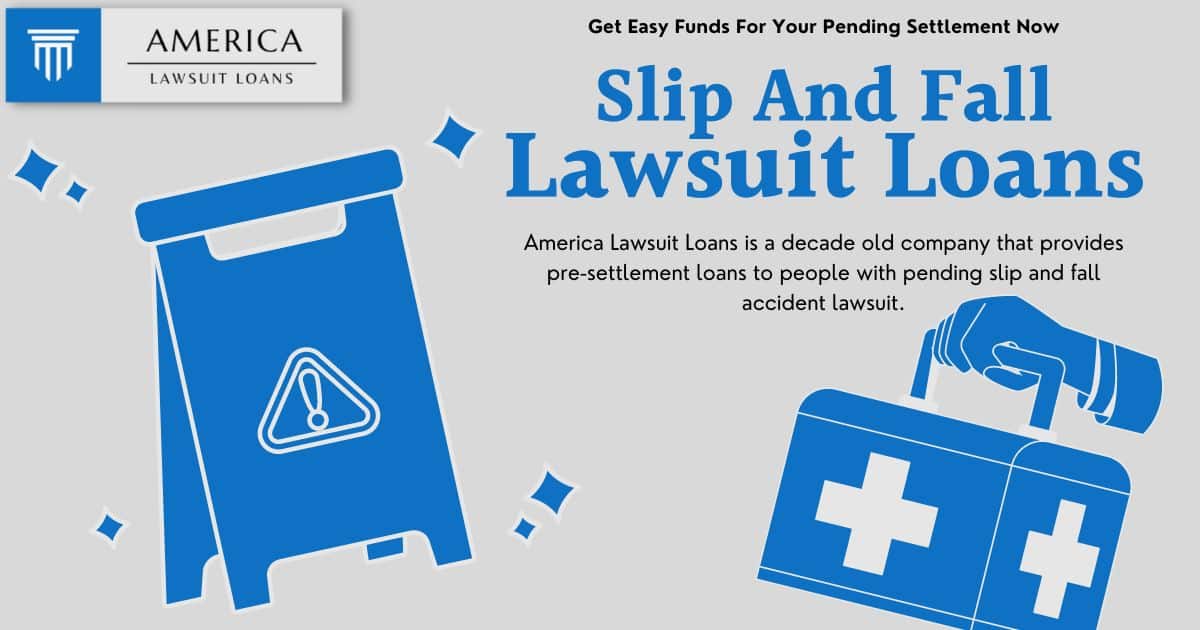 Slip And Fall Accident Lawsuit: Most Common Personal Injury Claim
As per the data collected by the CDC, every year more than 3 million elderly people get hospitalized and receive treatment for fall injuries. More than 800,000 patients per year get hospitalized because of fall injuries; commonly, they suffer head injuries and hip fractures. It's really shocking figure to know that most of these people suffer injuries by falling in public places or on private property because of someone else's negligence.
Most of the time, when people suffer fall injuries because of someone else's fault, it makes them legally eligible to receive compensation from the offender or property owner. But most people ignore the compensation for fear of losing money in court expenses and attorney fees. Those who go ahead with court proceedings mostly receive settlement money at the end of the judgment if their attorney proves that their injuries were caused by someone else's fault.
As a result, if you have been injured, you must file a lawsuit with the assistance of a slip and fall attorney near you in order to receive fair compensation for the damages you have suffered. In this case, we can help you by offering a low-cost slip fall settlement funding program, through which you receive a lump sum in exchange for a portion of your future reward.
Why Do Slip And Fall Accident Victims Need Lawsuit Loans?
A lawsuit is an expensive and time-consuming process, and moreover, slip and fall accident claims are tough; it can take a couple of years to settle. And even for a fair settlement, your attorney needs to put a strong case in court proving that the other party was at fault. For attorneys, it is one of the toughest jobs to create strong evidence and a chain of arguments. Then also, it totally depends on the judgment as to whether you will receive a fair settlement or not.
But to continue with the lawsuit proceeding, you will need money, not only for the legal fees but also for regular expenses if you have lost your job because of the fall injuries. A slip and fall accident loan is the best financial solution for the plaintiff with a pending settlement who is running short of cash and needs money to keep the trials going. Our immediate cash advances for your slip and fall accident can provide you with a buffer amount to deal with the expenses right away. These cash advances that you receive will be risk-free loans since the repayment is completely based on the outcome of the trial. Therefore, if you lose the case, you will owe nothing to the lender, and if you win, it will be easy to pay off your loan by using the settlement amount you received from your slip and fall accident claim.
In simple terms, a lawsuit loan for slip and fall accident victims is essential if you have bills piling up because of surgeries and you are not sure when you will receive the settlement. Don't settle for less than you deserve. Get the lawsuit money before trial and wait for the final settlement offer.
Some common slip and fall accidents for which lawsuit loans are available:
Most of the time, a fall accident happens because the owner has failed to keep the property safe or has not followed proper norms. Some examples of slip-and-fall hazards include:
Wet or contaminated floors without any signboard around.
Damaged flooring surfaces (uneven), potholes, and broken or slippery floor tiles.
Defective or wrinkled carpet or uneven steps/thresholds
Mats or rugs that are not properly laying flat on the floor
Obstructions and accumulation of objects in walkways (e.g. hoses, cords, cables, debris, etc.)
Unguarded platforms, walkways, and work areas 30 inches above the ground.
Inadequate illumination
Places where slip-and-fall accidents may occur but are not limited to:
Public Properties
Private properties
Restaurants, Fast food or otherwise
Market places
Grocery stores
Escalators
Elevators
Resorts
Motels
Interest Rate Of Slip And Fall Accident Lawsuit Loans
The rate of interest on a lawsuit loan for your slip and fall accident depends on a few factors, such as
The severity of the injury
Cause of the injury
Public and private property accident
State in which accident happen
The medical cost you bear
It is impossible to provide an exact figure of interest rate without first assessing the case; thus, if you require a cash advance for your slip and fall injuries, you must apply first, and only after assessing the case can the lender finalize the interest rate on the lawsuit loan.
Why Choose America Lawsuit Loans for Pre-Trial Slip and Fall Funding?
Our company has a decade of experience offering lawsuit loans on cases related to slip and fall injuries. Some of the major benefits of working with our company are:
Easy Process: We have very simple steps for applying for a slip and fall accident loan. All you need to do is fill out the online form, and our executives will collect case information from your attorney and work with them to determine the case's strength. Based on the insights, we can offer you a lump sum, which you can receive after signing a contract.
Risk-free funding: We only provide non-recourse cash advances, where we only consider your lawsuit as collateral and not your personal asset. Therefore, even if you lose the case, you will owe us nothing, making it the only risk-free option to raise money for your lawsuit and pay for the medical and legal expenses without any worry or debt.
No Credit Check and Employer Verification: Since we offer you money for the lawsuit you have pending, your current credit rating will not have any impact. Further, even if you lost your job and don't have any savings, you can still get the funds against your pending lawsuit, which you can use right now and pay once you receive your slip and fall settlement money.
Apply For Pre-Settlement Loans On Your Slip And Fall Lawsuit
If you want to get a fair trial and settlement award, you have to wait until the end. And to cover the expenses in between lawsuits, a lawsuit loan is the solution you are looking for. If you have a strong case and your attorney approves case funding, we will offer the lowest interest rate on slip and fall lawsuit funding. If you need money for your slip and fall lawsuit without putting anything at risk, apply with us for pre-settlement funding today.
Take advantage of the cash advances without going through any hassle of credit checks, employment verification, or long paperwork. Use the money to pay for any surgery you need after a slip and fall accident or to pay for the attorney's fees so that they can build a strong case. We've got you covered.