People with pending lawsuit who are in search of a quick advance for the settlement of rising bills can apply with us for lawsuit loans in Delaware. Because of a higher number of fatal injuries because of negligence, the state rank is 14th among the most filed cases in the United States. We understand that because of the rise in the pending number of cases in the court, the settlement time is also increased, which leads to problems for people who are completely dependent on the compensation that they will receive after winning the case.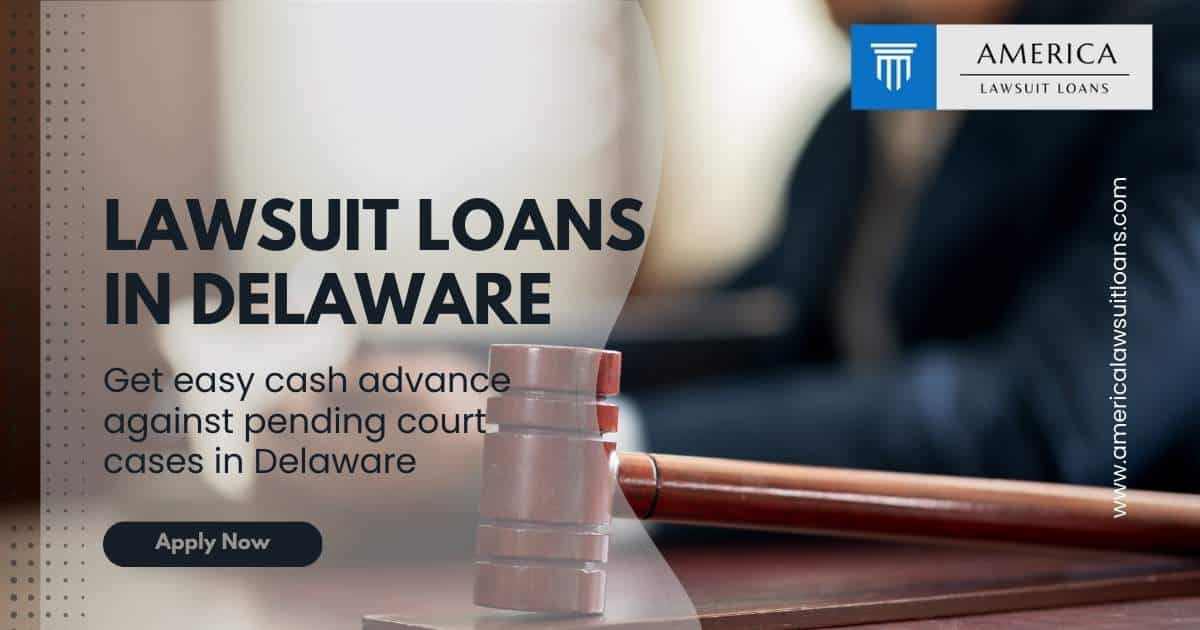 When you're in the middle of a legal battle, the last thing you want to worry about is how you're going to pay your bills and support your family. At America Lawsuit Loans, we understand that lawsuits can be lengthy, expensive, and emotionally draining. That's why we're proud to offer lawsuit loans in Delaware, providing you with the financial support you need to focus on your case and pursue justice.
What are Lawsuit Loans?
A lawsuit loan, also known as pre-settlement funding or litigation financing, is a cash advance provided to plaintiffs who are involved in ongoing legal proceedings. This type of financial assistance helps cover living expenses, medical bills, and other necessities while you wait for your case to settle or go to trial.
Lawsuit loans are non-recourse, meaning that if you lose your case, you won't be obligated to repay the loan. This sets them apart from traditional loans, where you'd be required to pay back the loan regardless of the outcome of your case.
Eligibility Criteria for Lawsuit Loans in Delaware
To be eligible for a lawsuit loan in Delaware, you must meet the following criteria:
You must be a resident of Delaware or have a pending lawsuit in the state.
You must have a valid case with a strong likelihood of winning.
You must have an attorney representing you on a contingency fee basis.
Types of Cases Eligible for Lawsuit Loans in Delaware
At America Lawsuit Loans, we provide financial assistance for various types of cases, including but not limited to:
Personal injury claims
Medical malpractice lawsuits
Employment discrimination cases
Wrongful termination claims
Product liability lawsuits
Wrongful death claims
Commercial litigation
The Application Process for Lawsuit Loans in Delaware
Applying for a lawsuit loan with America Lawsuit Loans is a simple, straightforward process. Here are the steps you need to follow:
Complete our online application form or call us directly to provide the necessary information about your case.
Our team will review your application and contact your attorney to gather additional information about your case.
If approved, we will offer you a funding agreement outlining the terms of the loan.
Once you and your attorney review and sign the agreement, we will transfer the funds to your account, often within 24 hours.
Repayment Terms for Lawsuit Loans in Delaware
As mentioned earlier, lawsuit loans are non-recourse loans. This means you only repay the loan if you win your case or reach a settlement. The repayment amount is determined by a previously agreed-upon percentage of your settlement or award, which is stated in the funding agreement.
The Benefits of Lawsuit Loans in Delaware
Lawsuit loans offer several advantages for plaintiffs in Delaware, including:
Financial stability: Lawsuit loans can help you cover your living expenses, medical bills, and other necessary costs while you wait for your case to settle.
Reduced pressure to settle early: With financial support from a lawsuit loan, you won't feel pressured to accept a lowball settlement offer just to make ends meet.
No credit checks or employment verification: Your eligibility for a lawsuit loan is based on the merits of your case, not your credit score or employment status.
Do I qualify for lawsuit loans?
In general, you can automatically qualify for lawsuit loans in case of any personal injuries caused by any entity or person in Delaware. If you have suffered severe injuries in an accident, you can qualify for a quick and free application.
Any limitation in spending funds?
No, there is no limitation on the way you spend your pre-settlement loan. It is available as a financial help during the lawsuit injury. Some people use it to cover their mortgage, pay off their debts and rent, medical bills, or simply bear their living expenses.
Lawsuit Loans in Delaware – Empowering Plaintiffs in Their Fight for Justice
At America Lawsuit Loans, we offer quick pre-settlement funding to our clients in Delaware, and we provide free examination before you sign in. We provide cash advances to plaintiffs against their pending claims. This way, we help our clients to get their life back on track after suffering a painful injury or accident, which led them to file a case.
We believe in empowering plaintiffs in their pursuit of justice. If you're involved in a lawsuit in Delaware and struggling financially, our lawsuit loans can provide you with the resources you need to stay afloat and focus on winning your case.
By offering competitive rates, flexible repayment terms, and a simple application process, we strive to make lawsuit loans accessible and beneficial for those in need. Our dedicated team of professionals will work with you and your attorney to ensure that your loan is tailored to your unique situation and requirements.
Don't let financial stress hold you back from fighting for the justice you deserve. With a lawsuit loan from America Lawsuit Loans, you can regain control of your life and concentrate on achieving a favorable outcome in your case.
If you have any questions or concerns about lawsuit loans in Delaware, feel free to contact our knowledgeable team for assistance. We're here to help you navigate the world of litigation financing and make informed decisions that support your best interests.
Choose America Lawsuit Loans, and take the first step towards securing the financial support you need in your fight for justice. Apply for a lawsuit loan today and experience the peace of mind that comes with knowing your financial needs are covered while you focus on winning your case.
With our commitment to exceptional service, transparency, and client satisfaction, you can trust America Lawsuit Loans to provide the reliable financial support you need during your legal journey. Reach out to us today to learn more about how our lawsuit loans in Delaware can benefit you and help you achieve the justice you deserve.