Georgia Lawsuit Funding Is A Simple Way To Get Cash Advance While You Need It Most During Pending Settlement
We don't have any control over accidents or personal injuries caused by someone else's negligence, but we can demand compensation from the party whose wrongdoing makes you suffer. Generally, people who suffer injuries go through legal channels to get a fair settlement, but on the flip side, lawsuits can be expensive, and not everyone has saved much for situations like this. During a pending settlement, you may face a financial crisis because of medical bills and attorney fees; therefore, we have come up with a solution for people with a pending lawsuits in Georgia. We provide lawsuit loans in Georgia to people who are willing to share their future settlement award in exchange for money right now.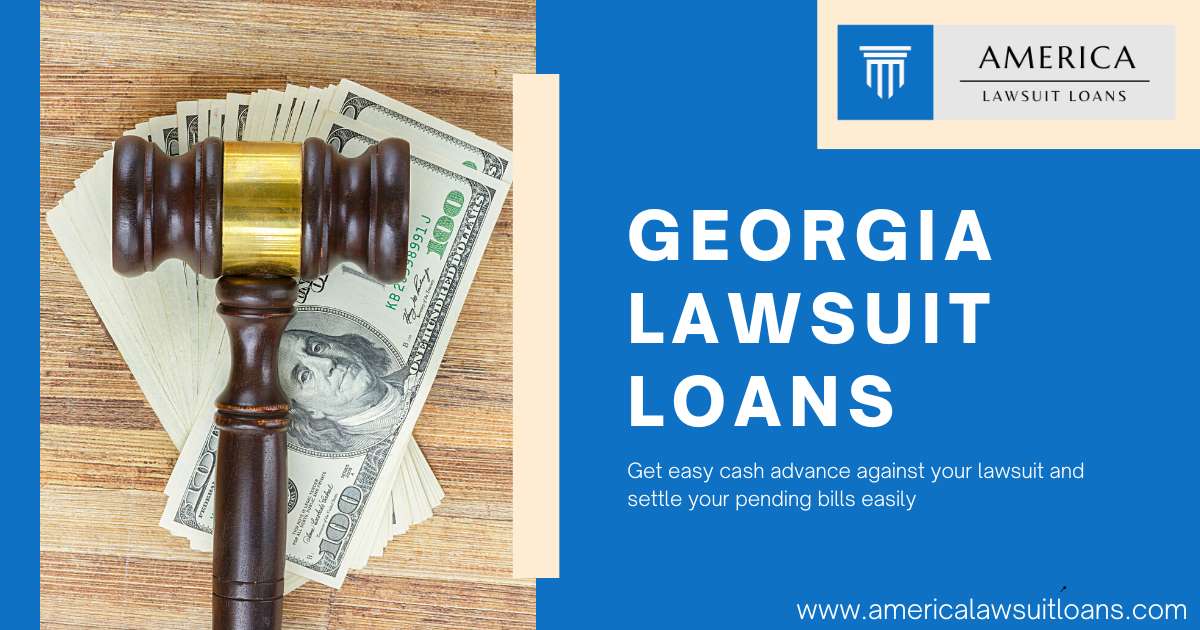 Who Can Get a Lawsuit Loan in Georgia?
The basic requirement for applying is that you must have a pending lawsuit, but it is not the only eligibility factor, here are a few more
Your age is above 18
An attorney is working and representing your case
The attorney is taking contingency fees
Further, the attorney agrees to a lawsuit loan on the related case.
Since not anyone who has a lawsuit can apply for a lawsuit loan, only a selective number of cases are allowed for funding, check the list below
Cases That Are Allowed For Georgia Lawsuit Loan
Car accident claims
Medical malpractice
Nursing home abuse cases
Sexual abuse cases
Employment harassment claims
 IP infringement cases
Slip And Fall Lawsuit
Product liability claims
How Lawsuit Loans Can Help Plaintiffs in Georgia?
Personal injury cases are common in the courts, with over 10.42 million people. Because of the high number of pending cases, people who are waiting for settlement may have to wait for months or even years to get a fair offer. But in the meantime, they may need money for their day-to-day living expenses, which can get tough if they lost their job because of an accident or suffered permanent disabilities.
During such scenarios, lawsuit loans in Georgia can help plaintiffs get money for their pending bills. Since lawsuit loans are non-recourse funds, you will not accumulate any debt since your future compensation award will be used to settle the loan, and even if you lose the case, you don't have to pay anything.
Further, getting a lawsuit loan is much easier if you have a pending case since banks ask lots of questions and demand too much collateral to sanction one. Even when the lending institute offers you cash advances, they come with restrictions on their use. But that is not the case with a lawsuit loan; you can get the money based on the strength of your lawsuit, which you can use for any payment such as medical bills, legal fees, child care, personal care, surgeries, and even car repairs.
Get Cash Advance From Trusted Lawsuit Funding Company
America Lawsuit Loans is a well-known firm that provides non-recourse pre-settlement funding in Georgia. We give you access to no-risk cash advances so you can pay off your debts and legal fees. Since the state of Georgia has a huge population, the number of fatal injuries is also high; therefore, if you or your loved one suffer injuries because of someone else's fault and you need money for medical bills and you can't wait until settlement, we can help!
Our lawsuit loan is provided only to people who have higher chances of getting a fair settlement; therefore, we try to keep the interest rate under control and offer a personalized cash advance based on the insights of your lawsuit. Stop worrying about the funds you urgently require for court fees and medical bills and apply for a lawsuit loan in Georgia now by filling out the form below.