Need Money for a Pending Lawsuit? Get A Pre-Settlement Lawsuit Loan in Iowa
With one of the most extensive area coverages and a population ranking of 31st in the US, it's understandable that accident numbers will be high. Personal injury cases are common in Iowa, with so many road accidents, slip and fall cases on properties, and even medical malpractice. However, due to a large number of filed cases, the time for settlement extends beyond months, and in many cases, years. Because not everyone is financially prepared for an unexpected lawsuit or personal injury claim, we offer Iowa lawsuit loans. It is a risk-free option for plaintiffs to get funds against their pending court cases, which they can use to pay for medical and legal fees.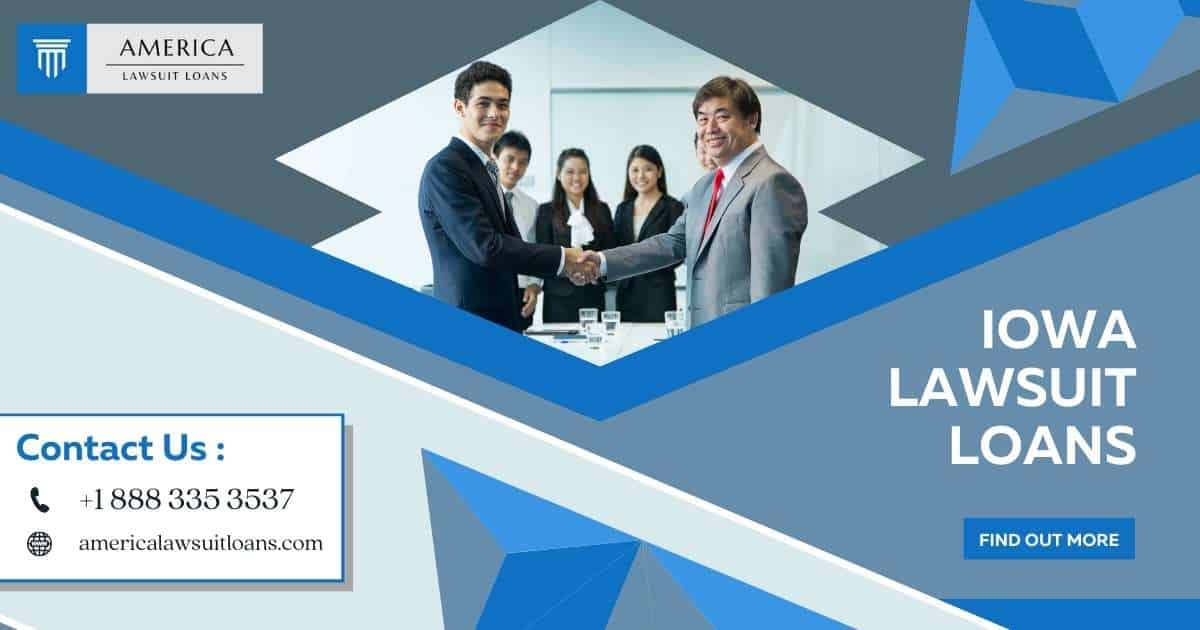 To get a cash advance, the very basic requirement is that your case is in court and waiting for settlement. Also, when you get a lawsuit loan, you have to give the lending company a part of the money you will get from your settlement. As you get quick money, whereas no securities are with the lending company, the interest rate can be high and varies from a lawsuit to lawsuit. Not every case is allowed for lawsuit loans in Iowa; only cases related to personal injury can get the funds.
Check The List Of Cases We Fund
Personal injury
Car Accident
Medical malpractice
Nursing home abuse
Commercial litigation
Labor Law
Mass tort cases
Who Qualifies for a Lawsuit Loan in Iowa?
There are a few eligibility criteria to get a loan, and those are
Applicant's age should be 18 and more
The applicant suffered injuries because of someone else negligence
The person who is taking a loan is the defender and needs compensation for the damages they suffered
You can take a cash advance only on pending cases and not on settled cases.
Your attorney, who is representing you in court, works on contingency fees.
If a person dies as a result of negligence, their family may be eligible for a lawsuit loan if they are pursuing a court case for compensation.
Lawsuit Loan Is Easiest Way To Cover Expenses In The Midst Of Lawsuit
When a person is short on funds, they try to obtain a loan, but it is not easy to raise funds if they are suffering from personal injury or have lost money as a result of personal injury. Banks can deny you credit if they find your credit rating is not up to par or if you fail to give them proof of income. But with America Lawsuit Loans, you get a partner that can get you a cash advance while you are in the middle of a settlement and need funds to keep the lawsuit proceedings going. Many times we have seen that the insurance company or the party at fault in a personal injury claim exaggerates the case and tries to slow down the process so that you exhaust all your savings. Once they know you don't have enough money to keep the proceedings going, they will force you to settle for a lowball offer.
But now, with a cash advance on a pending lawsuit, you get the option of keeping going with the court case until you receive a fair settlement value. Further, a lawsuit loan is not a debt; it is actually a solution where you submit a portion of your future settlement award in exchange for money right now. Because you are not required to submit any collateral, your court case will be used for this purpose. Therefore, even if you lose the case, you don't have to repay anything. And it's easy to get a lawsuit loan in Iowa for a pending case because in a few days, you can get the funds, which you can use without any obligation. To apply, just fill out the application form given below.