Pre-settlement Lawsuit Funding For Plaintiff in Michigan
If you are in a pending lawsuit, then you are definitely worried about the settlement, since it takes years for a personal injury case to get a final ruling. But you cannot wait until settlement because you need to pay for urgent surgeries now or because you need money to cover regular expenses since you lost your job because of the injury. In those cases, our Michigan lawsuit loans can really solve your financial trouble during a pending settlement.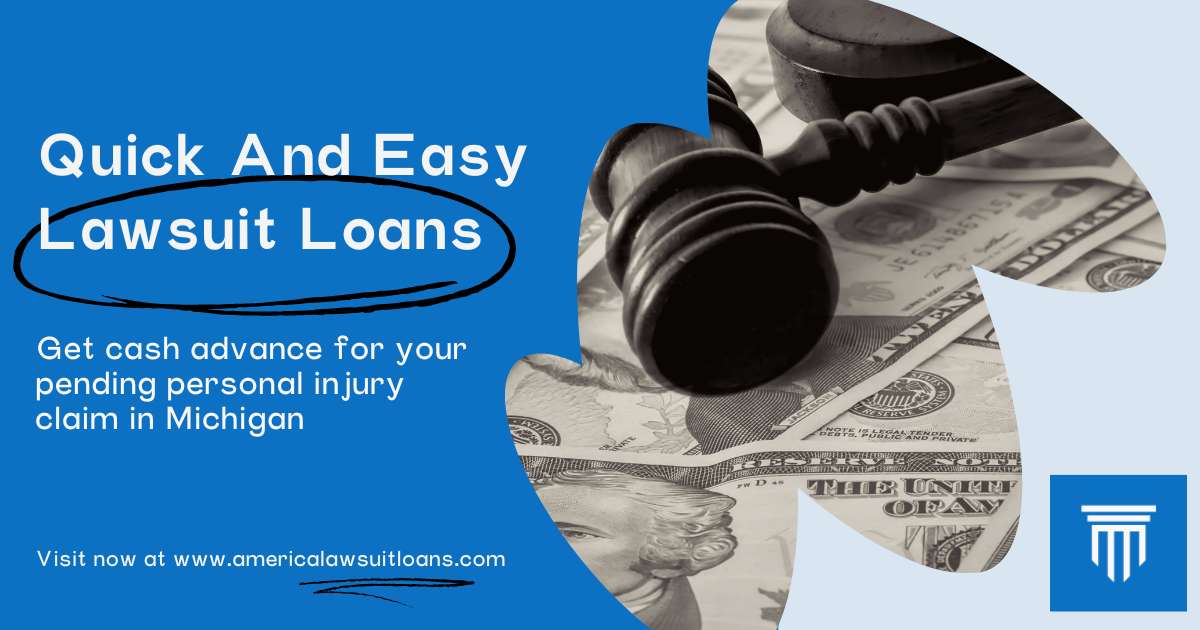 People frequently overlook the time factor when filing a personal injury claim, but it is critical because lawsuits are time-consuming and expensive. If you are using your savings to cover the court fees and attorney bills, then you may exhaust all your money and be left with months more for settlement. A pre-settlement lawsuit loan is a risk-free cash advance that is only given to people with a pending lawsuit in Michigan, and in exchange, the lender will take a portion of the future settlement award you receive.
Lawsuit Loans Are a Better Option If You Have Pending Lawsuit in Michigan
Most people who suffer injuries have to go through medical treatments, which cost heavily; sometimes people also lose their job because of the injury and are left with no income source. All these can cause sudden financial strain, and not everyone is prepared for such things. People who spend all their savings on treatment need money to get fair compensation from the offender through court. Either you can take a loan from a bank or take credit from friends and family. But now there is a simple solution for your problem: "America Lawsuit Loans."
In this case, you can borrow money from the lender in exchange for agreeing to share a portion of your future award. It's a risk-free cash advance since no physical collateral is required and you only pay if you win. And in case you lose the case, you need not pay anything, making it the only option that gets you the required funds when you need them most before putting you in any extra debt or altering your credit score.
In fact, your credit rating doesn't matter, since our lawsuit loan company in Michigan gives cash advances based on the strength and merits of your case. If you think you have a perfect case that will get a fair settlement but you need urgent funds now, call us at 888-335-3537 or fill out the online application given below.
Eligibility Criteria For A Lawsuit Loan
For a lawsuit loan, there is only one requirement: you must be in the middle of a personal injury lawsuit. But to get approval few more requirements are there such as
Your age must be 18
The injuries you suffered are caused by someone else action
Your involvement in the accident is negligible.
You have already filed a case in court and awaiting a settlement
The lawyer you hired is working on a contingency basis
You agree to the terms of the lawsuit loan, that in exchange for a current cash advance, you give a portion of your future settlement to the lending company
Further, a limited number of cases are allowed for funding, and you have one of them
Cases That Are Allowed For Cash Advance in Michigan
Car Accident
Personal Injury
Medical Malpractice
Product Liability
Slip And Fall
Mass Tort
Civil Lawsuit
Why Should You Use America Lawsuit Loans?
If you are based in Michigan and looking for lawsuit funding, we are a well-reputed and highly trusted firm for getting cash advances. We have a proven track record and years of experience in providing the best lawsuit loan in Michigan. With the help of our lawsuit loans, you can avoid financial mishaps like considering lowball offers, pending credit bills, getting evicted from a rented house, etc. You never have to settle for anything less than you deserve just because you don't have enough money in the bank. Our lawsuit loan can give you a cushion to use while you wait for settlement.
Our company's product, a lawsuit loan, can help anyone having a prolonged court battle in Michigan. The time you spend fighting the case can easily affect your ability to do your job and pay bills, your mortgage or rent, and even your daily expenses.
The circumstances of a personal injury may get complicated, and legal battles can often leave you waiting for months before getting any repayment. It is mainly because insurance companies are used to taking unfair advantage of someone's urgency and can slow down the process. This way, people are forced to settle for less as they are unable to wait for complete compensation. Solve all the issues during the pending lawsuit with risk-free funds now. Because even if you lose, you don't need to pay anything.