Cash Advance For Plaintiff in Minnesota
People who suffered injuries because of an accident in Minnesota or because someone else was not paying attention have a right to demand compensation from the offender. However, receiving compensation necessitates legal proceedings, and not everyone has saved for an uncertain lawsuit; thus, we have devised a solution in the form of a lawsuit loan in Minnesota. Here, we provide a cash advance to people with a pending lawsuit, and in exchange, we take a portion of your future compensation award.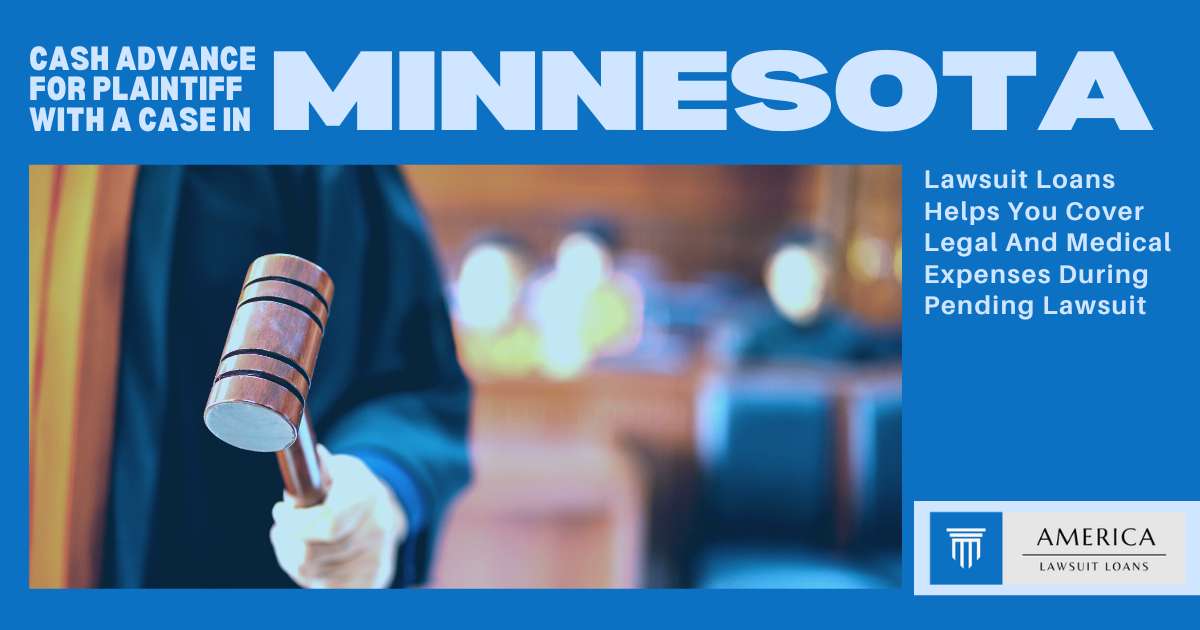 Since we offer non-recourse lawsuit loans, you will get a risk-free cash advance with little to no debt worries. Because if you lose the case, you will owe us nothing, and if you win, your settlement will cover the repayment. If you or any of your loved ones suffer injuries and need medical treatment but cannot wait until settlement, our lawsuit funding can be a great help.
Minnesota Lawsuit Loans Eligibility
In Minnesota, anyone who has a pending lawsuit for "personal injury claims" can apply for a lawsuit loan, but whether or not they get it depends on how strong their case is. Further, there are a few points that you need to understand to become eligible.
Your age must be 18 and above
You have an ongoing case
An attorney is working on a contingency basis
Disclose if you receive any settlement offer
You agree to take funds in exchange for a portion of your settlement
Cases Eligible For Cash Advance
Car Accident Lawsuit
Medical Malpractice Lawsuit
Product Liability Lawsuit
Slip And Fall Claims
Mass Tort Claims
Lawsuit Funding Process
Our lawsuit funding process is straightforward; you can get funded in just three steps.
Step 1: You Make an Application With Us
To apply with us, all you need to do is fill out an online form given on the website, or call our executives at 888-335-3537. Share your case-related information, attorney details, and the amount you need.
Step2: We Will Analyze Your Case
Once we have the contact information for your attorney, we will call them to get case-related information, like the strength of the case, the expected value, the expected time of settlement, etc. After which, our expert team of lenders will decide the amount that can be offered based on case insights.
Step3: Sign the Agreement And Get Money
In the last step, we will contact you and your attorney with the amount we can offer, and based on it, we will share an agreement with terms of payment. Once we receive the signed contract from your attorney, we will transfer the funds.
Tired of Lowball Offers? Take Lawsuit Loans in Minnesota and Wait for a Fair Settlement
Are you looking for a cash advance on a lawsuit settlement? America Lawsuit Loans is the best company for you. We provide cash advance loans to plaintiffs in personal injury cases, which can assist in covering personal expenses. Most of the time, when you don't have money in the bank, you agree to lowball offers, but now with the possibility of a lawsuit loan, you have better choices.
Since lawsuit loans are designed for people involved in serious injuries or car accidents caused by someone else's negligence, if you are struggling financially and your life turns upside down due to an accident injury, you can qualify for lawsuit loans to pay off your expenses. So stop worrying and get a cash advance for your needs.