People who suffered injuries in New Hampshire are eligible to receive compensation for the damages and trauma they suffered because of someone else's negligence. But getting fair compensation is only possible through court proceedings. Litigations are mostly time-consuming, stressful, and expensive. Further injuries or permanent disability may have forced you to leave and also suffer lost wages, which can make things worse financially. However, pre-settlement lawsuit loans in New Hampshire can provide you with enough cash advance prior to settlement to cover litigation costs or any surgeries that may be required at the time. Further, our cash advance gives you a financial cushion that you can use in case you are being forced to settle for lowball offers.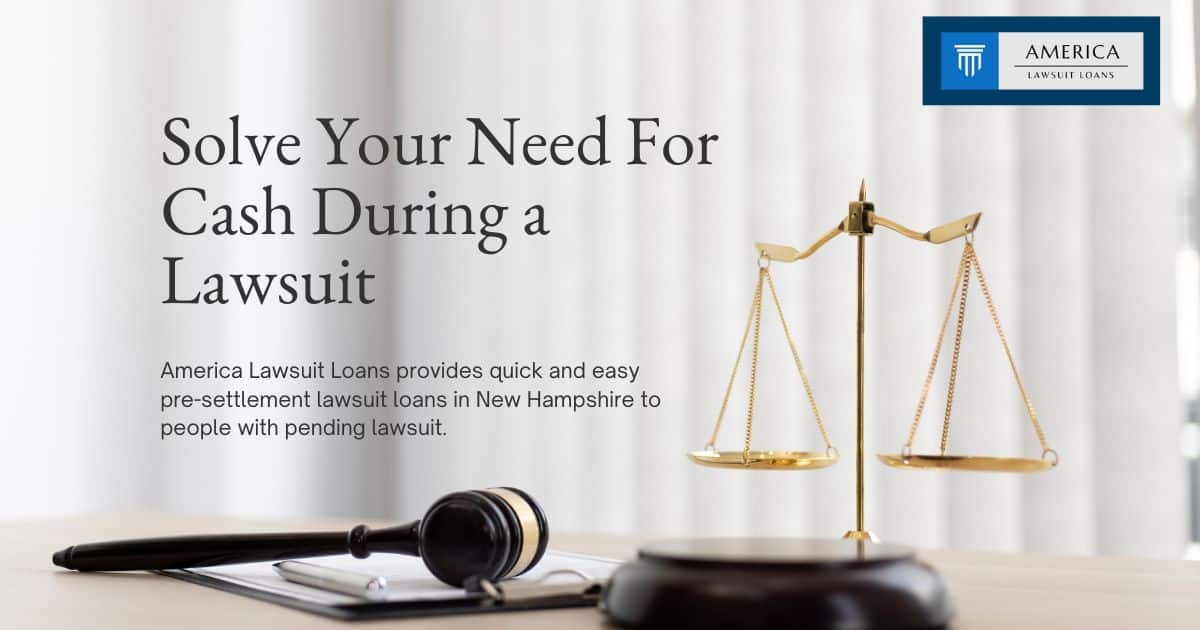 Reasons Behind So Many Pending Lawsuits And Increasing Popularity of Lawsuit Loans In New Hampshire
New Hampshire, with just a population of 1,37,529, ranks 29th for fatal injuries in the country. The annual injury death rate is 60.5, which is 0.7% higher than 60.1, the national average in the US. The residents of New Hampshire drive 13 billion miles annually, according to an estimate. It means the average resident of New Hampshire drives up to 9841 miles annually. It is 2.2% higher than the average of 9630 miles annually in the US.
Along with miles to be driven, driving habits and local seatbelt use also play a vital role in the car accident fatality rate. Around 1.4% of people drink too much before driving. The car accident death rate is 8.6 in New Hampshire, which favorably compares to the national average of 10.9 and costs $167 million to the state annually.
Because of the frequent incidents of car accidents and the large population that suffers injuries because of someone else's negligence, the number of personal injury lawsuits filed each year is increasing. Further, the process of compensation also gets slow because of huge backlogs; therefore, a plaintiff may have to wait for months or even years to get a fair settlement offer. Finally, people who need money right now but are involved in a pending lawsuit can take advantage of pre-settlement, in which they agree to share a portion of their future award in exchange for money right now, which is "the sole concept of lawsuit loans in New Hampshire."
Cases That We Are Funding In (NH) New Hampshire
Our lawsuit loan company can fund multiple types of claims; below is the list of lawsuits that are allowed for a cash advance in New Hampshire, but not limited to are:
Car Accident Lawsuit
Slip And Fall Accident Lawsuit
Product Liability Lawsuit
Labor Law Cases
Racial Discrimination Lawsuit
Premises Liability Lawsuit
Medical Malpractice Lawsuit
In case you don't find your case type here, you can still apply and let us know about your case. If we find merit in your personal injury claim, we may offer you a lump sum.
How Lawsuit Funding Is More Beneficial Than Other Forms of Loans in New Hampshire
In simple terms, an NH lawsuit loan is a loan that is given against an ongoing lawsuit, where your lawsuit is going to act as collateral. If you try to get a loan from a bank, they will never consider your lawsuit as collateral and demand physical collateral.
No bank can offer you a loan based on the anticipation of the compensation you can get from your lawsuit, but we can. Here are a few of the benefits that you get from lawsuit funding:
Easy To Get
To apply for a lawsuit loan, all you need to do is fill out an online contact form or call us at 888-335-3537. Afterward, our company will ask for details related to your case. We will discuss the strength of your case based on your attorney's response. If we find your case worthy enough for a cash advance, we will provide the money in a couple of days.
No-Risk
Since we provide New Hampshire lawsuit loans with a non-recourse feature, even if you lose the case, you don't have to repay anything. Our lawsuit loan service is the only risk-free way to get money without worrying about its payment because you can easily repay the money after receiving the settlement.
Hassle-Free Experience
Our lawsuit funding company will not ask for lots of paperwork; we only need your case details and attorney information. Further, we don't do any credit checks since your past credit rating is not going to have any impact on the cash advance and interest rate. If your case has a higher chance of getting a fair judgment, then only you can get a cash advance.
Use It For Anything
When you get a business loan, you can only use it for business purposes, but that is not the case with a pre-settlement lawsuit loan. You can use the lawsuit loan however you like. We understand that, while in an ongoing trial, a person has to take care of a lot of things like child care, car repairs, surgeries, medicine bills, and legal fees. Therefore, we put no obligation on the usage of the lawsuit loan, and you are free to use it the way you want.
In New Hampshire, you have a pending settlement. We Can Help You Get a Lawsuit Loan!
If you have a pending lawsuit and you need urgent money to cover its expenses, we can be the help you are looking for. We offer low-interest rate settlement loans in New Hampshire that are risk-free and easy to get. Our funding method is straightforward, and you can get your loan in a couple of days after approval.
We keep our interest rate as low as possible based on a few criteria, like lawsuit type, expected time for settlement, expected money from the settlement, and case strength. Therefore, if you think you have a strong case, you can easily apply for a lawsuit loan in New Hampshire and use the money for any urgent expenses.