Personal injury litigation in New York is not only expensive but takes months and even years to reach a settlement. People who have pending lawsuits mostly need funds to pay for medical care and legal fees. Not every stored a lot in saving to tackle scenarios like accidents and cases, therefore, if you are in need of cash advance and have a pending lawsuit we can offer you a lawsuit loan in New York.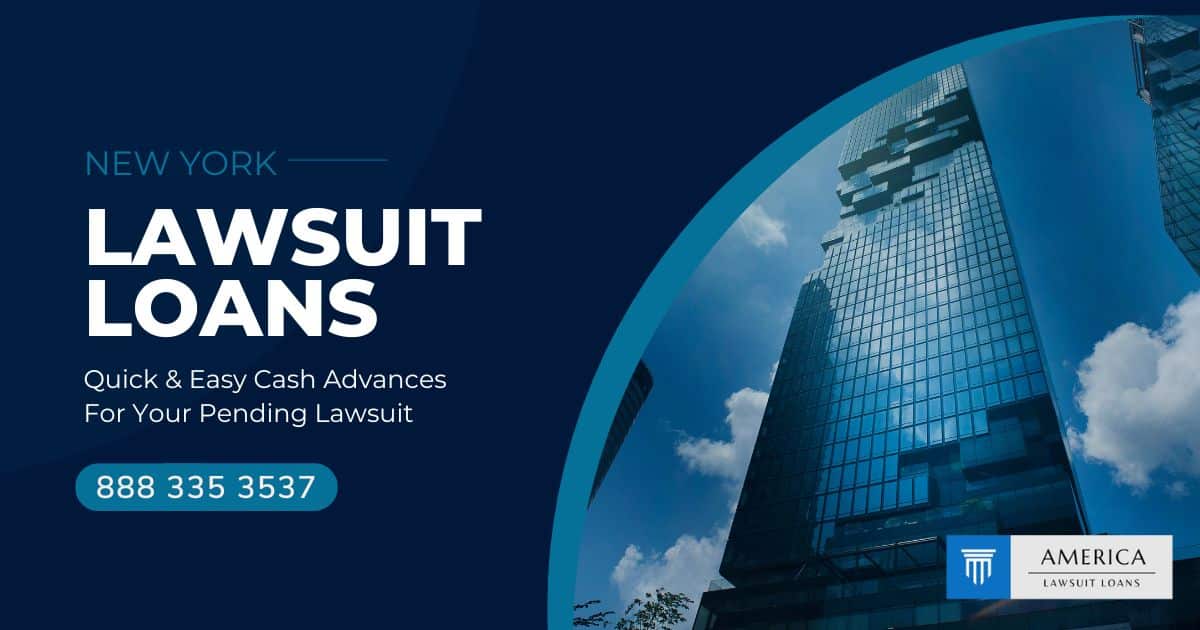 There are only a few options available out there when you need money in cases of urgency such as a bank loan, credit from friends, or the use of credit cards. But all these options will take time and require credit rating and collateral. But with a pre-settlement loan in New York, you can get an easy cash advance in exchange for your future settlement award. These are risk-free cash advances that do not require credit checks, employment verification, and collateral.
You can use the cash advance to overcome financial stress and attempt to settle all the mounting bills. Further, our legal funding can help you continue the fight for much longer and get the deserved compensation.
Qualification criteria for lawsuit loans in New York
It's really simple and easy to get NY lawsuit loans; the process is quick with an easy-to-fill application. To qualify, all you need is to have the following:
You must have a personal injury case in New York
An attorney must be representing your case in New York
You or your loved one happen to get injuries because of someone else negligence.
Lawsuit funding process
Fill out the online form; provide us with relevant case details, attorney contact, and the amount required. Our team will connect with your lawyer to understand the case merit and based on the analysis we offer you a lumpsum. After you get approved for the money, you have to sign a contract that contains the terms. Once we receive the signed contract we will transfer the amount in the next couple of days.
Why You Need NY Lawsuit Loan?
New York is the fourth largest state, with a population of 20.2 million people. Because of the huge population and fast-paced lifestyle personal injury is a common thing in NY. It's a car accident, slip or fall and even racial discrimination, if you suffered any of these then you are eligible for compensation. But it's not easy to get deserved compensation directly from the offender. You may have to file a lawsuit and wait till the court gives a final judgment.
But in the meantime, people need money to pay for medical expenses, surgeries, and attorney fees. Not everyone keeps a lot in savings to tackle accidents and lawsuits. Therefore we designed a financial service for lawsuit loans where you get a cash advance against your pending lawsuit.
Different cases we fund in New York
American lawsuit loan fund any type of case, as long as you or your loved one has been injured in a personal injury and have an ongoing case in New York.
Car accident claims
Personal injury claim
Medical malpractice lawsuit
Employment discrimination claims
Slip and fall case
Civil rights abuse
Commercial Litigation
Mass tort claims
Any type of lawsuit that is part of personal injury claims is eligible for a lawsuit loan in New York. Taking legal funding can help you increase the amount of compensation by ignoring lowball offers from the offenders.
If your case is not listed above, then also we can help you with quick and easy cash advances, fill out the below form and let us know your case details.
How are lawsuit loans beneficial for plaintiffs in New York?
In New York, pursuing justice is not cheap; you need funds to tackle your personal injury claims. A bank loan is not an option if you have a low credit score. Therefore lawsuit loan is the only reasonable method to get the required cash advance.
Many benefits attached to the laws with a settlement loan in New York,
First, they are easy to get.
No credit score is required.
Cash advance without any collateral.
You pay only if you win the case.
How can you use legal funding in New York?
You can use the legal funding in your to reduce financial stress and pay for legal and medical bills.
At America Lawsuit Loans, we put no obligation on pre-settlement funding, which we offer, therefore, you can use it to pay for expenses like:
Medical bills
Attorney fees
Loan repayment
Car or property repairs
Utility bills
Cover lost wages
There is no restriction on how you use the funds; applicants can use them for any expenses they like to cover.
Are lawsuit loans allowed in New York?
Yes! New York lawsuit loan is completely legal and openly famous for its non-recourse feature. This kind of funding is designed in a form where risk is minimum.
No physical Collateral is required for applying; the only details that are needed are case details. Your ongoing lawsuit will act as Collateral, and any settlement you receive from the lawsuit will be used to repay the loans and interest on them.
How much cash advance can I get?
You can get up to $500,000 from America Lawsuit Loans depending on the case strength, type of case, statute of limitation, and personal damages. Once we review your claim, we can only finalize the amount we can offer.
Need Urgent Funds For Your Lawsuit! Apply Here.
If you have an ongoing lawsuit in New York and urgently need to settle specific bills, we are here to help. We offer low-interest cash advances against your ongoing lawsuit. To apply, just fill out the form below or call us at 888-335-3537. Our personnel will connect with you to explain about NY lawsuit loans and let you know whether you fulfill all the criteria. Once approved, you will receive funds in a couple of days