We are here to help anyone who has a pending lawsuit in North Dakota and needs money to pay legal expenses. We provide quick and simple pre-settlement lawsuit loans in North Dakota at the lowest interest rate. Whether you are in the middle of a personal injury case, a car accident lawsuit, or any commercial litigation, our company can offer you a lump sum in exchange for a future settlement award.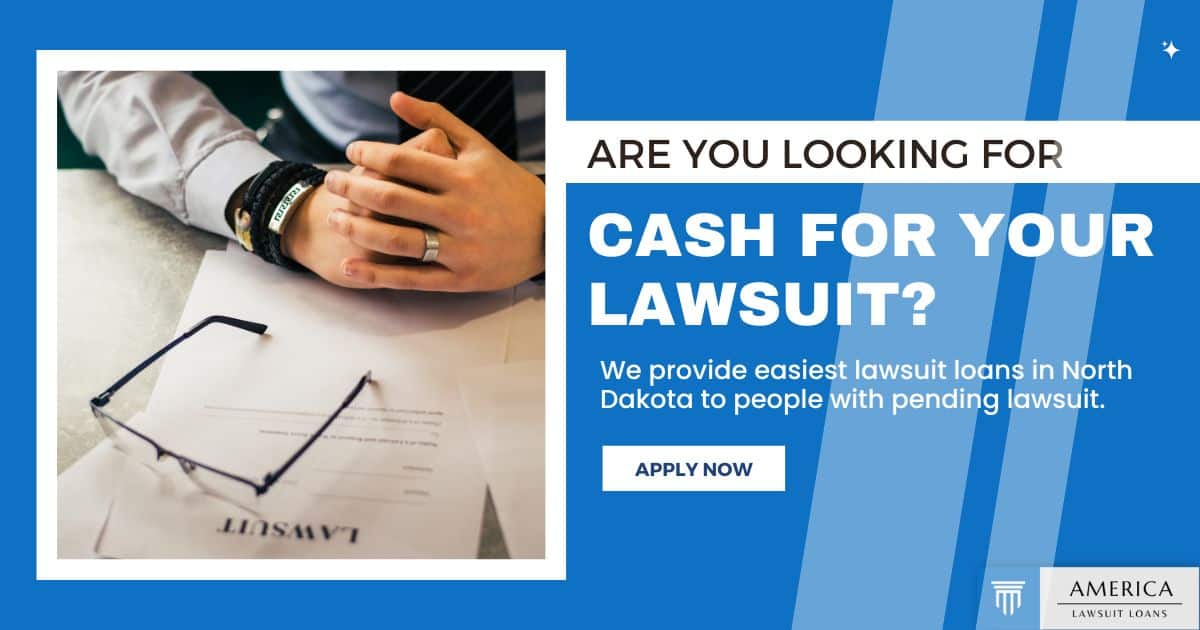 Our pre-settlement funding services are well known among litigants and attorneys because we only provide risk-free cash advances, which you only pay if you lose the case. Further, if banks have denied you a cash advance for your current settlement process, we are here to help.
Let's look at some personal injury statistics to understand the need for cash advance
North Dakota ranks 16th among the largest states in the United States, with a population of 756,928 people, and fourth in terms of fatal injuries. The annual injury death rates in North Dakota are 64.8, which is 7.9% higher than the average of 60.1 per 100,000 in the US. The residents of North Dakota drive 10 billion miles annually in total. On average, a resident drives up to 13,259 miles annually. It accounts for 37.7% more than 9630 miles annually, the national average.
In the last five years, more than 55% of people killed in car accidents in North Dakota are not wearing seatbelts. Even the case of drunk and drive is also very high in the state. Most people who are injured as a result of someone else's negligence or suffer the loss of a loved one seek legal help and seek compensation from the offender. With so many cases pending, it's really understandable that cases take time to settle, and you may have to wait for years before you reach a settlement.
Not everyone is financially prepared for such accidents and injuries, and filing a lawsuit can be costly. To cover your litigation costs, we have a financial product for you: "Lawsuit Loans"
What are lawsuit loans?
A lawsuit loan is a type of cash advance that is only available to people with a pending lawsuit; you can consider this as pre-settlement money you receive in exchange for a future settlement award you will receive.
The concept of lawsuit funding in North Dakota is very simple: you borrow money from a lender against your pending lawsuit and repay it once you win the lawsuit. It's straightforward, with no need for physical collateral or credit checks. Your lawsuit is collateral in and of itself in the process of pre-settlement financing.
Who is eligible for pre-settlement funding in North Dakota?
Since a lawsuit funding is legal in North Dakota, you can raise money against your lawsuit by selling a portion of your future settlement award. But not every case gets lawsuit funding in North Dakota. Only a handful of cases are allowed for legal funding, such as
Car Accident
Personal injury
Product liability
Medical malpractices
Defective drugs
Labor law
Commercial lawsuit
A few more cases are eligible for pre-settlement loans; the complete list of cases we fund can be found here.
Since you now know the cases that are allowed for a cash advance, you have to further fulfill some more criteria like
You are 18 or above age
You have a pending lawsuit in North Dakota
An attorney is working with you and taking a contingency fee
Benefits of taking a pre-lawsuit loan in ND
Since personal injuries not only cause physical damage, they also create a huge dent in finances. No one is ready to meet an accident that is not their fault, and no one keeps a savings account only for the purpose of an accident or lawsuit. Therefore, in times such as a personal injury case, you will need money to cater to your needs like medical bills, rent, car repairs, and legal fees. Pre-settlement lawsuit funding is the solution. Some of the benefits of taking lawsuit loans from our company are:
Quickly get the money you need
When the economy is not doing well, it is difficult to obtain a loan, but this is not the case with pre-settlement. If you have a lawsuit that has a higher probability of getting the expected compensation, we can offer you a cash advance. All you need to do is fill out the application, get your lawsuit inspected by our expert, and take the money you need so badly.
Risk-free money for your lawsuit
Since pre-settlement loans are non-recourse finances where your lawsuit is acting as collateral, you can relax; you only pay if you win the case. If you lose the case, you will owe nothing to the lender. A lawsuit loan is the only risk-free option for raising money on your lawsuit in North Dakota.
Use the money without any obligation
We provide lawsuit loans with no obligation on how the applicant uses them. Since there is no obligation on how you can use the money, you can pay for anything such as medical bills, legal fees, mortgage repayment, personal care, child care, or even your car loans. Use the funds the way you want.
Easily reject lowball offers
Sometimes, when the plaintiff doesn't have enough money to keep the lawsuit proceedings going, the other party tries to settle the case for a lower amount. At America Lawsuit Loans, we offer simple settlement funding to assist you in dealing with a difficult situation by providing sufficient funds to allow you to pursue your case to the fullest extent possible. Use the funds to strengthen your lawsuit, build a strong case, gather more expert opinions, and wait for a fair settlement.
For plaintiffs in North Dakota, this is your chance to strengthen your case and receive a fair award.
Are you currently recovering from a personal injury accident and waiting for a settlement? You might be feeling like the unluckiest person on earth. After all, there is nothing left for you to do. You have bills and dues to pay off. If your injury is severe enough, you must be unable to work until you recover. How can you survive without going to work?
Like any other cash advance, we provide lawsuit loans in North Dakota to help meet your financial needs. But they are different. Unlike a traditional loan, no collateral or credit check is required. So, you no longer need to undergo any embarrassing financial situations. You can get an instant cash advance in North Dakota if you have a valid personal injury case and have hired a lawyer.