Personal injuries are one of the most common types of lawsuits that are being filed regularly in the courts of Oklahoma. Our legal system says that if you suffer injuries because of someone else's negligence, you can ask for compensation from the party at fault. But because of the long litigation process and expenses, many people don't have enough savings to wait until settlement. Since injuries can make you lose your job or increase the number of bills you have at once, people in litigation try to find financial solutions. An Oklahoma lawsuit loan is one of the risk-free methods to get funds in exchange for a portion of your future settlement award. You can apply for a cash advance from our company by just filling out an online application or calling us at the toll-free number 888-335-3537.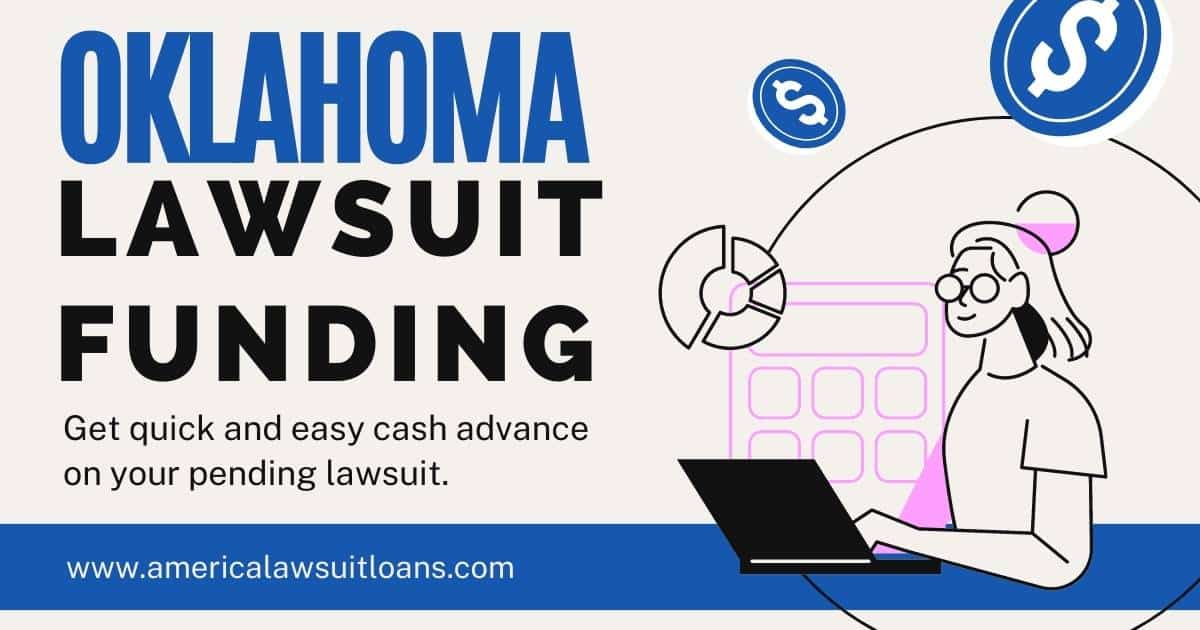 We are a decade-old company with a high reputation in lawsuit financing. Our acceptance rate is higher, and we try to provide the best-rate lawsuit loan in Oklahoma to people who are struggling financially during pending litigation.
Eligibility Criteria For lawsuit loans in Oklahoma
Since a lawsuit funding is allowed in the state of Oklahoma, anyone with a pending lawsuit can apply with us. But still, there are a few criteria you need to fulfill to become eligible for a cash advance, such as
Injuries that you suffered, were caused because of someone else negligence

You were at no fault for the accident or injuries

You have already filed a court case with the help of an attorney

An attorney is representing you in court and takes fee on a contingency
Further, there are a limited number of cases in which we provide lawsuit loans in Oklahoma. Check the list now.
Lawsuits On Which You Can Take Cash Advance Are
Car Accident

Medical Malpractice

Slip And Fall

Product Liability

Employment Discrimination
Pay for Multiple Expenses With Oklahoma Lawsuit Loans
Our lawsuit funding company provides cash advances that are not restricted in terms of paying for things. You can use the money for multiple things, such as
Medical bills

Court related fees

Expert opinions

Any surgery

Child care

Personal care
Get Funds Based On Case Strength
No one likes debt; therefore, we have come up with a simple solution where you get money in exchange for your future settlement award. It's a non-recourse cash advance, which makes it completely risk-free since you only need to pay if you win the case; if you lose, you will owe us nothing.
Since the loan is given against the lawsuit, the strength of the case plays a critical role in determining whether you will get the funds or not. Cases that have higher chances of a successful settlement can get a cash advance at a low-interest rate. But to determine the interest rate other factors are also involved like
Expected time of settlement

Expected future award

Asked amount

Severity of the injuries

Medical expenses
Based on the insight we gather from your lawsuit, we will offer you a lump sum, which you can use to pay for legal fees and medical bills. Further, a cash advance from our lawsuit loan company in Oklahoma gives you an alternate option of continuing with court proceedings to get a fair settlement and ignoring any lowball offers.
So if you think your lawsuit is strong enough and has value, connect with us at 888-335-357 or fill out the below-given form.