If you or your loved ones suffer injuries because of someone else's carelessness, you can ask for compensation. However, in order to receive fair compensation, you may need to go to court. Court cases are expensive and time-consuming, whereas a person who has suffered injuries or disabilities may need money urgently for medical bills or personal expenses. Our company provides lawsuit loans in Vermont, which you can take if you have a pending lawsuit and agree to share a portion of your future settlement in exchange for a cash advance now.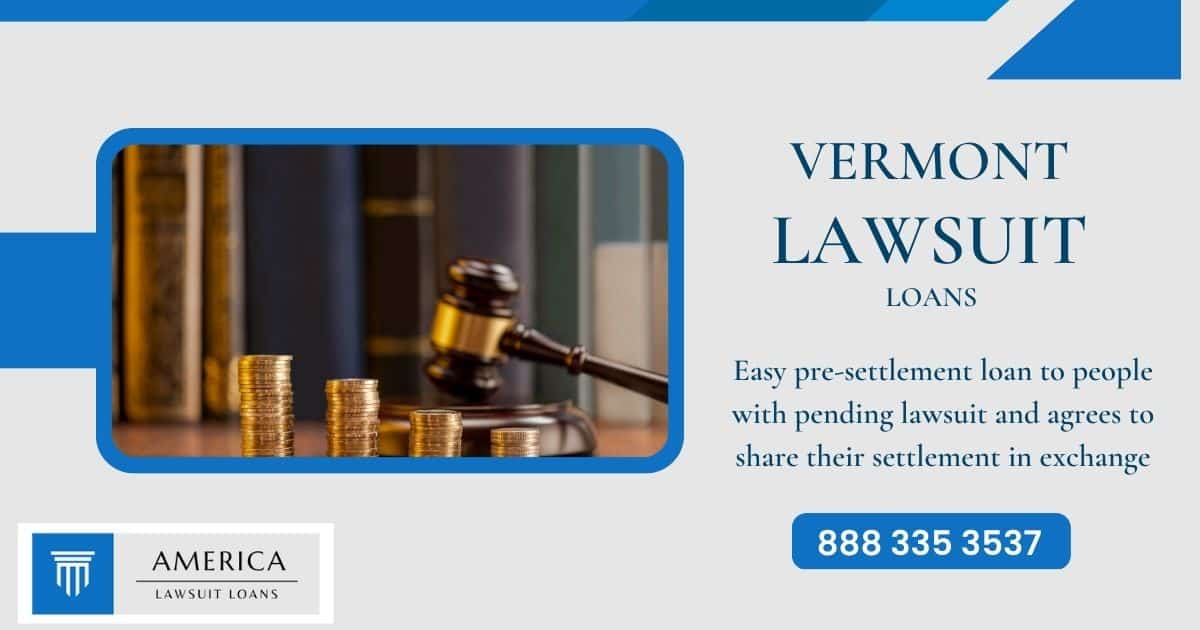 Case On Which You Can Take Lawsuit Loans in Vermont
Most personal injury lawsuits in Vermont are eligible for a cash advance. But still, there are some limitations on the types of cases our company funds. Check the list of cases for which we offer low-interest lawsuit loans.
Car accident claims
Personal injury claim
Medical malpractice lawsuit
Employment discrimination claims
Slip and fall case
Civil rights abuse
Commercial Litigation
Mass tort claims
Eligibility Criteria For VT Lawsuit Loans
For a lawsuit loan, the most important thing is that you have a lawsuit that is still going on. Some more criteria are:
You are 18 years old and above.
You currently have a pending lawsuit in Vermont
An attorney is working on your case and representing you in court
You agree to share your settlement in exchange for a cash advance.
Lawsuit Funding Process
You can apply online or call us at 888-335-3537 (toll-free). After which, our executive will call you to confirm the details and understand your loan requirement. Furthermore, we will contact your attorney who is working on the case to learn more about your lawsuit, such as its strength, the expected value of the settlement, and the expected time of settlement. Based on all the data we collect, we offer you a lump sum. We will provide you with a funding contract with the terms mentioned. Once you and your attorney sign the contract, you will receive money in your bank account in a couple of days.
Use of VT Lawsuit Loans
At America Lawsuit Loans, we understand the requirements of a person while they are in litigation. You can cover a lot of expenses using the lawsuit funding you receive in Vermont. Since we put no restrictions on how a person uses the cash advance they receive from us, You can use it for
Medical Bills
Surgeries Cost
Litigation Cost
Child Care
Car Repairs
or any other personal expenses.
Vermont Lawsuit Loans Are Risk-Free
Lawsuit loans come with many benefits, and being a risk-free option available in the lending industry is the biggest one. While you take a lawsuit loan in Vermont, the lending company will not perform any credit checks or employment verification; all you need is a strong case. Based on the merits of your case, you will get funds, but these funds come with no restrictions. You repay only if you win the case because, in pre-settlement funding, your lawsuit acts as collateral. Therefore, a lender will never ask for repayment of a loan if you lose the case.
Furthermore, lawsuit loans are simple to obtain and come with minimal paperwork because your attorney will handle the majority of the details for you. You simply apply, get approval, and get money. If you have a case in which you need money and, in exchange, agree to share your settlement money with our company, you can apply for a lawsuit loan in Vermont here!