Uber Accident Lawsuit Loans – Get Funds To Settle Bills
Have you been injured in an accident with an Uber driver?
If so, you may be entitled to some compensation for your injuries and other damages. Before you accept the settlement amount, however, it's important to consider whether you should take advantage of Uber accident lawsuit loans as part of your financial strategy.
Read more to know what is Uber accident loan and how it can help you achieve the results you want from your legal battle against Uber.
The Legal Process
It's easy to be overwhelmed by the legal process of filing an Uber accident lawsuit. But here are some steps that might help you understand the process better:
Find a car accident lawyer who has expertise in Uber cases.
Don't try to do it yourself! Unless you're an expert in that area, always hire a lawyer.
Make sure your attorney drafts a reasonable complaint detailing what happened and what damages you incurred as a result of the crash, and also ask them to file suit on your behalf within 180 days of your crash or lose your chance at recovery.
Be honest with your lawyer about all aspects of the case, even if they seem unimportant at first!
Apply for car accident loans with us and get the fund to pay for the lawsuit.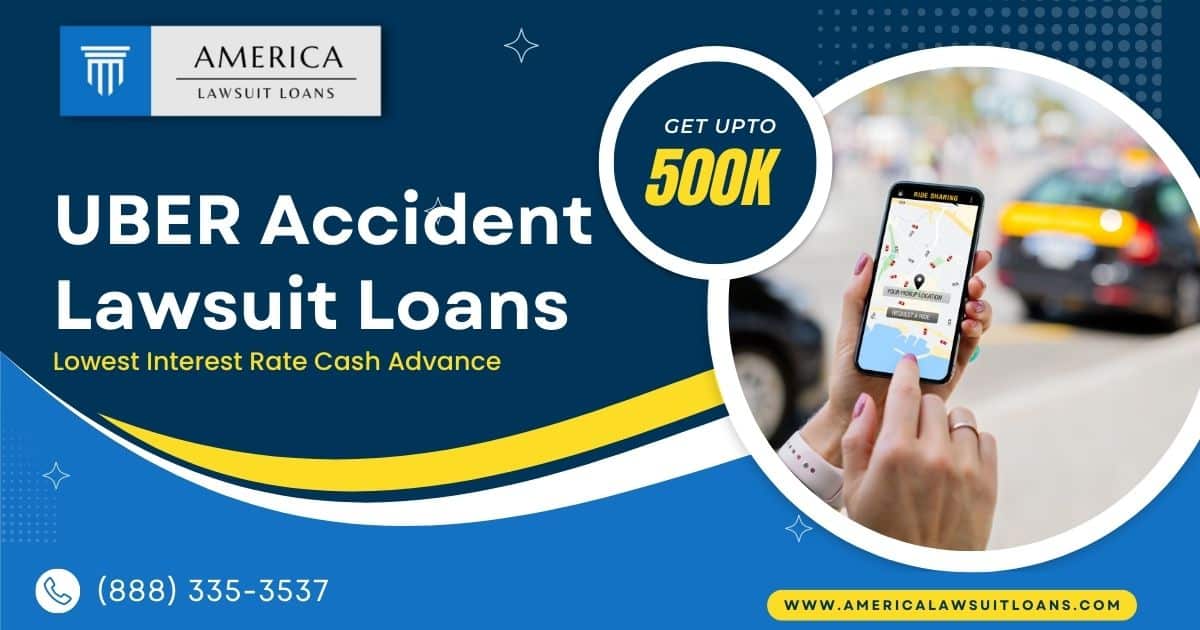 How Can We Help?
Here at America Lawsuit Loans, we can't stress enough how many car accidents there are every day.
We know that these accidents can be traumatic, and sometimes the injuries are bad enough that people must miss work for an extended period.
Some people lose their jobs because they cannot return to work after their injuries.
This is why we offer our Uber accident lawsuit loans – this type of loan is perfect for people who have been in a car accident and have been unable to make their normal monthly car payments but still need a way to get around while they are recovering from the accident.
The Benefits of an Uber Accident Loans
Getting an Uber accident lawsuit loan may be the best option for you if you are injured in an accident involving a UBER driver, are unable to work, and need financial assistance.
They can provide quick access to the funds you need without needing any documentation or credit checks.
Many people will be able to get the money they need upfront and worry about repayments after they are healed enough to return to work.
With no interest rates or hidden fees attached, it is possible for anyone who has been involved in an accident with a UBER driver and has faced serious injury or economic loss because of it.
How Much Can You Get?
The good news is that even with contact with your attorney and understanding the current lawsuit details, we can see if you're eligible for a personal injury lawsuit loan.
Most of the time, we're able to offer these loans right away.
The bad news is that the amount of money varies depending on your unique situation and the success rate of your case.
A common figure for successful cases is around $80,000.
This might not seem like much compared to what you've lost in wages, pain, suffering, and permanent injury caused by accident– but it's a great start.
Our company can offer you cash advances of up to $500,000 based on the strength of the case.
An Uber accident lawsuit loan helps get some stability back in your life so you can focus on what matters most: healing from this traumatic event and getting back on your feet financially.
No Hidden Cost & Lowest Interest Rate Uber Accident Lawsuit Loans
It's no secret that life can get expensive; before you know it, money is tight.
But this might be different if you've been in an accident and are now facing medical bills and car repairs.
Many people may be quick to apply for a personal loan to help with financial hardship, but not everyone has the necessary time or energy to complete the paperwork.
With an Uber accident lawsuit loan, your suit would go forward on your behalf for a fraction of what a traditional lawsuit would cost you.
As long as you have an injury case against Uber, these loans will work just like any other type of litigation finance.
In other words, after paying back the debt (plus interest), your case will move ahead with little to no impact on your finances.
Unlike banks and other personal lenders where interest rates are sky high, and more often spiral into unmanageable debt, litigation financing companies offer fixed monthly payments, making it easier to plan around them.
All in all, taking care of immediate needs while still getting compensated for injuries sounds like something worth considering!
Fill Out Our Form And Receive Funds in Less Than A Day
If you've been in an accident, it can be difficult to pay all of your medical bills while keeping food on the table and shelter over your head.
If you're lucky, you may be able to claim some damages from the person who caused the accident, but that doesn't mean that you'll be able to pay off your debts right away, even if you win the case in court.
The solution?
A lawsuit loan against your damages claim will allow you to pay off your debts until you receive your settlement or judgment after trial.
Apply For Uber Accident Loan Now!
Fill out the below-given form, and our executives will collect relevant case information from you and your attorney.
Once approved, you can take cash advances in less than 24 hours.