Get the compensation you deserve with a car accident loan.
If you've been injured in an accident, it's important to remember that you deserve the compensation you need to make your recovery easier.
While insurance will cover some of your bills, especially if you have collision coverage, it may not provide enough to allow you to focus on recovering from your injuries and getting back to work in the most timely manner possible.
For this reason, it's often wise to look into car accident loans, which can provide you with the money you need without creating long-term damage to your credit score or requiring proof of future income like traditional loans do.
What is a car accident loan?
A car accident loan, also called an auto accident settlement loan or car accident lawsuit funding, is used to help people who have suffered an injury in a car crash.
The money is used to pay for treatment and other needs while they wait for their auto insurance company to settle their case.
Factors that determine the amount you can get in the form of car accident pre-settlement funding
When it comes time to settle your case, many factors will determine how much you'll receive.
Some of these include:
What type of injuries were sustained?
Were the injuries serious?
How badly was your vehicle damaged?
Settlement is not easy to come by; if your auto insurance company denies your request for financial assistance, getting one from another source can be challenging.
But a car accident loan can make all the difference in the world when it comes to getting the compensation you deserve.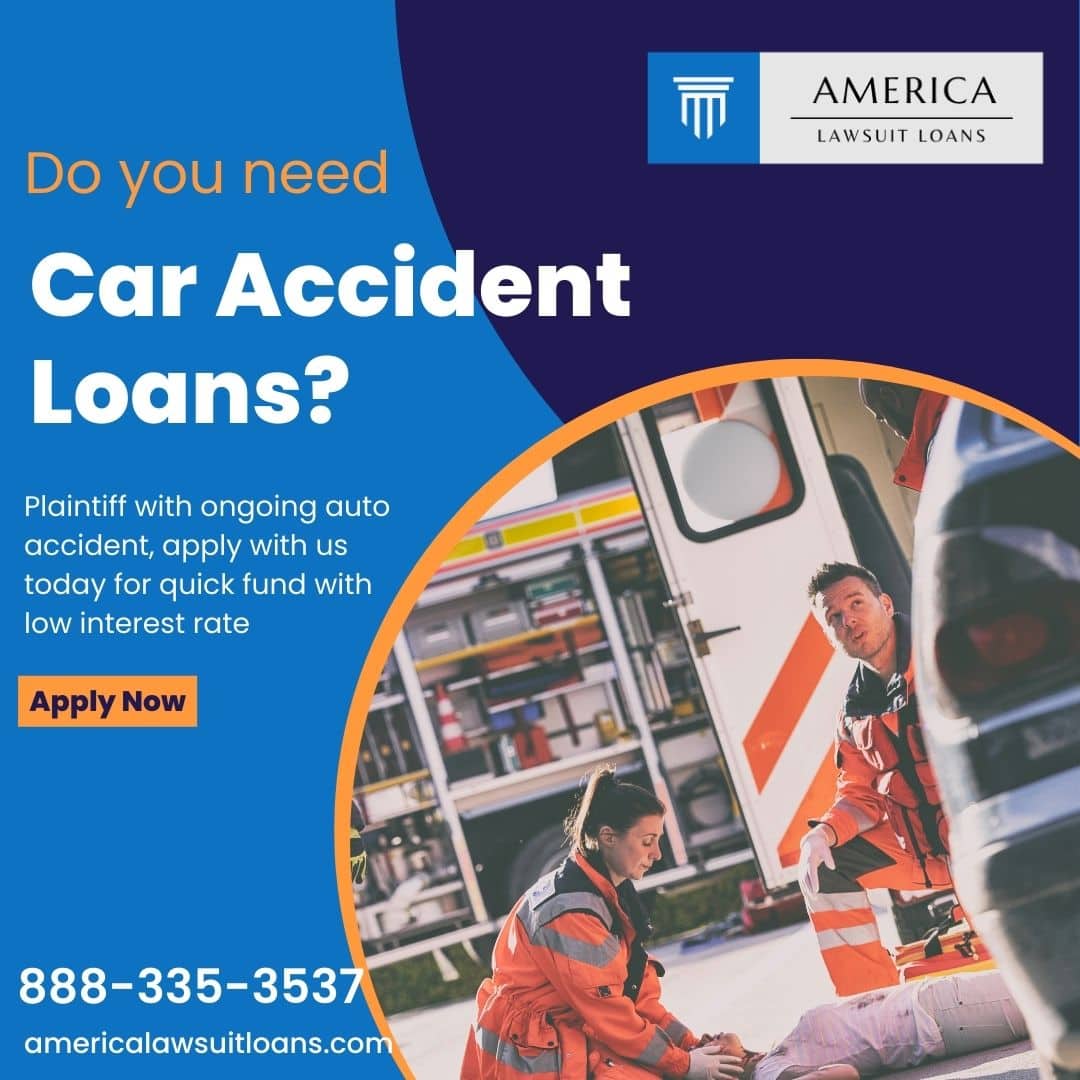 How does car accident lawsuit funding works?
Car accident loans ensure that if an individual is in need of funds because they have had an automobile accident and been denied their usual income, then it's worth getting more information about this solution.
The hope is that you can feel a bit more prepared for something that we all hope never to experience.
Filling out the free lawsuit loan application takes just moments, but it will give our lender the chance to understand your needs and determine what kind of help we can provide.
There may not be any credit check or collateral required; therefore, you can rest assured that even after having a bad credit score, there is still a chance that you can get a car accident settlement advance.
Benefits of Car Accident Loans
A car accident can be catastrophic and even lead to temporary or permanent disability.
Furthermore, medical bills, lost wages, rehabilitation costs, and other damages related to the crash could add up quickly.
Unfortunately, your insurance may not cover all of these costs, especially if you have an average policy or lower one.
With auto accident settlement loan in hand, you can access money today and focus on getting better without additional stress.
Settlement loans provide borrowers immediate cash that they don't need to repay until after their case is settled – typically within six months, but there's no limit.
Car Accident Loans offer financial relief during an incredibly stressful time for victims of car accidents and their families.
Easy To Get When You Need Funds The Most
Car accident loans are one of the quickest and easiest ways to get cash for injuries suffered in an automobile collision.
All it takes is just a few minutes to fill out our form, providing some personal information and describing your injuries, and you'll be matched with lenders who can offer this type of financial assistance.
Lowest Interest Rate in the Whole Lending industry
When people are faced with an unexpected situation, they often don't know where to turn.
That's why it's good to have peace of mind. A low-cost cash advance can help provide financial assistance when you need it most.
You can apply for a car accident loan that provides the money you need while offering flexible repayment terms so your budget won't take as big of a hit.
Car accidents happen, but that doesn't mean your financial life has to be affected by them too.
No Credit Checks Required By Us
We specialize in fast, hassle-free financing for people who are looking for car accident loans.
No matter your credit score or situation, we have many options available to meet your needs so you can get back on your feet as soon as possible.
Get Funds in Just 24 hours.
You could get up to $50,000 for the cost of your vehicle and other expenses such as medical bills, funeral services, or even loss of income from being out of work.
We offer instant decisions on our car accident loans so that you can receive funds in just 24 hours!
Common types of auto accident collisions
Most accidents in which people have been injured will be classified as one of three types. These are:
Frontal collisions,
rear-end collisions
Side collisions
Other less common collisions include
Rollovers
Head-on collisions.
Parking lot accident loans
Intersection accidents
Speeding accidents
Drunk driving accidents
Drowsy driving car accidents
Hit and run accidents
Dangerous highway conditions accident
Brake failure accident loans
Defective tire accidents
Types Of Auto Accidents That Qualifies For Legal Funding
Car accident loans are typically available to individuals who have sustained injuries in an auto collision, but there are many other reasons for which an individual may be eligible for these types of loans.
Lyft, and Taxi
Motorcycle accidents
Bike accidents
RV accidents
Commercial vehicle accidents
Dram Shop lawsuits (drunk driving / overserving accidents)
Is it worth getting one?
A lot of people suffer injuries in their accidents and need to take time off from work. This can lead to lost wages, missed bills, and overdue credit card payments.
If these setbacks happen because of someone else's carelessness, it is only fair that they should be compensated for this financial hardship.
That's where car accident settlement loans come in.
We are here to give you access to credit so that you can go back on your feet when dealing with an injury due to another person's negligence.
It is worth applying for car accident loans if you have a pending lawsuit or are waiting for a settlement.
How can plaintiffs use the cash advances?
We can provide plaintiffs with loans on car accident settlements to cover emergency expenses such as food, rent, and medical bills.
The money is given without any collateral, so it's available when plaintiffs need it most.
Plaintiff can use the funds to pay for
Medical & Hospital surgery bills
Legal fees & attorney expenses
Rent payments
Car loan payments
Mortgage Payment
General living expenses
When a plaintiff decides to settle their injury claim for compensation payments, we will use the repayment terms of their agreement.
Don't Be Left in the Cold After a Car Accident – Get a Loan to Help You Recover
Car accidents can lead to significant financial instability and strife.
Without a stable source of income, medical bills or other expenses like living costs and food can cause headaches that lead to sleepless nights.
However, sometimes this is made worse by struggling to pay for items like a rental car or doctor bills.
Car accident lawsuit loans is one of the way to alleviate some of this burden.
If you think that's an option for you, contact us today! We'll review your financial situation and discuss all of your options with you in-depth.
Once we have agreed on the best path forward, we'll get things started on your behalf so that you can get back to life as normal; sooner rather than later!
Car Accident Loans FAQs
What are car accident loans?
Car accidents happen every day. If you are unfortunate enough to be in one, then you will have unexpected and expensive bills. This can make it hard to cover your costs after an injury or damage of your vehicle from another driver's negligence. Fortunately, this is when car accident loans can help. These loans are for victims of these types of accidents to receive coverage for their costs and get back on their feet as soon as possible.
Are car accident loans regulated?
No. The loans are not regulated by either state or federal laws and there is no way to determine upfront if the lender has your best interests in mind. Car accident loans, which can cover things like deductibles and other out-of-pocket expenses for the person who was in an accident, come at a high cost of up to 25% APR.
Who Is Eligible for a Car Accident Loan?
In order to apply for a car accident loan, you must be injured in an automobile crash. The injury can be either physical or mental, and it's important that your injury was sustained in the accident. Mental injuries include post-traumatic stress disorder and depression. Physical injuries include whiplash, strains, fractures, and internal organ damage. If you've been involved in an auto accident where someone else is at fault (i.e., they were driving recklessly), then you may qualify for a car accident loan to help cover your medical expenses and other related costs while you recover from your injuries.
What is the interest rate on car accident loan?
The interest rate for a car accident loan is typically less than 12%. You may not have to put up any collateral, either. You only need to show that the value of your personal injury claim is likely worth more than that, and then send in receipts or purchase orders as proof if it is.
Can car accident lawsuit funding help me get a larger settlement?
It can take weeks or months for an injury claim to be processed. The slower the process, the less your client gets in settlement. This is why our company offers quick cash settlements to victims of personal injury accidents, so they are able to get back on their feet as soon as possible. You can use the funds to pay for good lawyers and build strong case, leading to a larger settlement.
Can I get more than one car accident lawsuit loans?
The short answer is yes. There are quite a few reasons why this is the case and one of those reasons is that there are various methods for receiving funding to help pay for your losses in an auto collision. It doesn't matter if your primary concern is medical expenses, pain and suffering, or lost wages - as long as you qualify, you can apply for help from one or more of these loans.
Do I have to repay even if I lose the car accident lawsuit?
No, since we provide non-recourse lawsuit funding meaning that if you are unable to win your case, we don't collect anything from you.
Are There Any Limits Or Restrictions On How I Can Use The Money From An Auto Accident Loan?
The benefits of an auto accident loan are unlimited. You are allowed to use your money as you see fit and don't have to worry about paying it back. This can help you during your time of need and allow you to rebuild what has been lost in an instant.
How long does it take for getting car accident loan?
Unlike other common loans, these cash advances are based off the type of damage sustained in an accident so getting approved won't depend on your credit history. Approved applicants can have funds deposited into their bank account within 24 hours, making this one of the fastest ways to find quick relief after a car accident.