If you suffered an auto accident then you must understand how devastating it can be. These unfortunate accidents can disrupt your life completely. Ranging from bringing physical, emotional, and financial stress auto accidents in the United States is a very stressful events. Further, if you have suffered from an accident that is not your fault, and you are not able to cope with the financial difficulty because of the ongoing case and recovery costs, car accident loans can be a great supporting tool for you. Our company is famous for providing quick and easy car accident legal funding to people who have a pending lawsuit of auto collision where they are the victim of a no-fault accident, or they suffered injuries because of the other driver's negligence.
Car accident loans, also known as car accident lawsuit funding or auto accident settlement loans, is one of the most prominent financial solution designed for people with a pending car accident claim. These cash advances are only being offered to the plaintiff who suffered injuries because of someone else fault. Further, the benefit of these car accident lawsuit loans is to provide immediate cash relief, which allows you to manage litigation expenses and focus on healing without the worry of money during a recovery phase.
How do Car Accident Lawsuit Loans Work?
The working mechanism of car accident loans is straightforward. If an accident has left you with injuries and an inability to earn your regular income, our lawsuit funding solution can be your safety net. Our loan application is simple and swift, requiring only essential details to understand your situation and determine how best we can assist you.
Rest assured, credit checks and collateral requirements aren't hurdles here. Regardless of your credit score, we can provide you with a car accident settlement advance, allowing you to breathe easier during a trying time.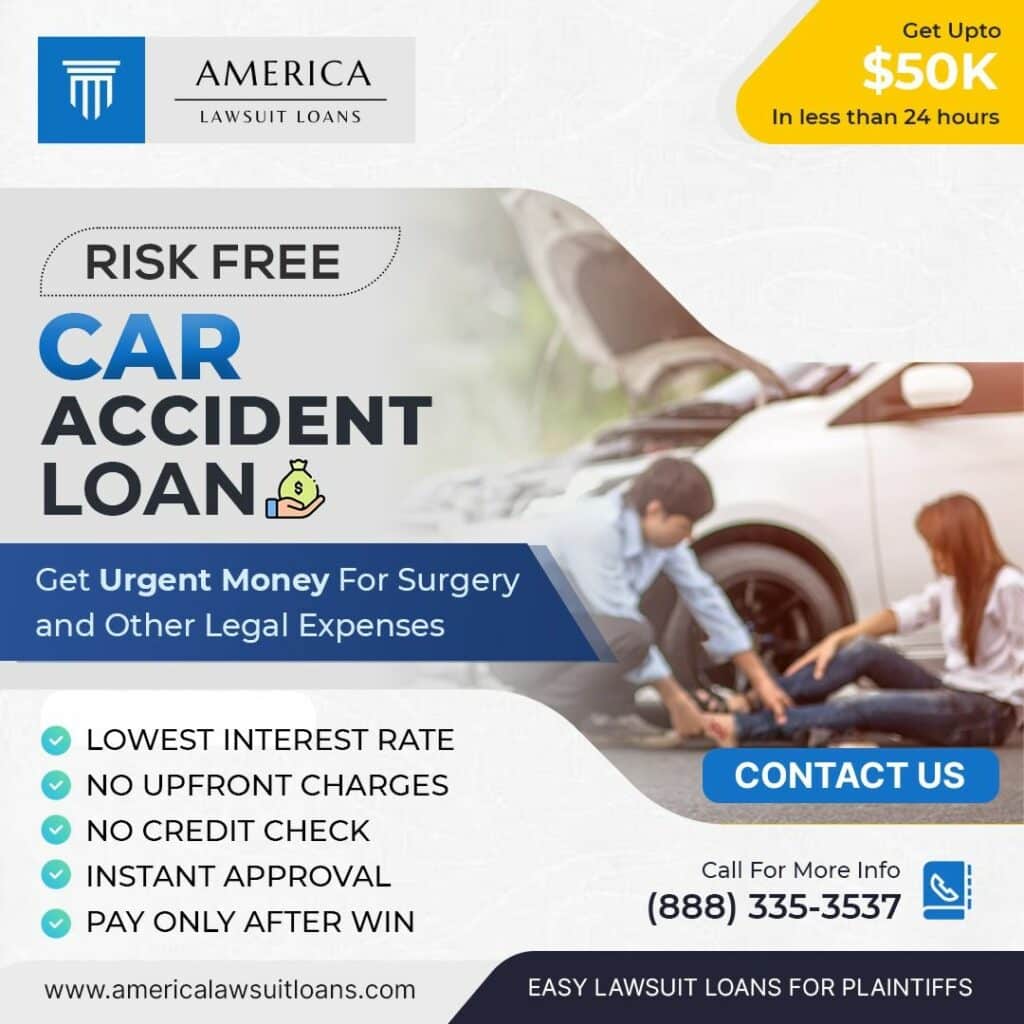 Benefits of Car Accident Loans
A car accident can significantly disrupt your life, leading to mounting medical bills, lost wages, and rehabilitation costs. In such instances, average or lower insurance policies may not cover all the associated expenses. Enter car accident loans – they offer a sigh of relief, providing the immediate cash you need, payable only once your case is settled. Our loans are designed to alleviate financial stress, providing the aid you need when you need it most. They stand as a beacon of hope during trying times, offering financial relief to victims and their families.
Speedy Access to Funds with Minimal Hassle
One of the advantages of car accident loans is their speed and ease of acquisition. A few minutes spent filling out our form can link you to lenders offering financial assistance tailored to your situation. Our interest rates are among the industry's lowest, offering financial help when you need it most, with repayment terms that won't cripple your budget.
We pride ourselves on offering quick, hassle-free funding. Irrespective of your credit score, we have options to meet your needs and help you regain your footing.
Types of Collisions and Accidents Covered
Our car accident loans cater to a variety of accident scenarios. These include but are not limited to, frontal, rear-end, and side collisions, as well as less common situations like rollovers and hit-and-run incidents. Whether it's a parking lot mishap, an intersection accident, or a case of drunk driving, our lawsuit loans can provide the financial support you need.
Most accidents in which people have been injured will be classified as one of three types. These are:
Frontal collisions,
rear-end collisions
Side collisions
Other less common crashes include
Rollovers
Head-on collisions.
Parking lot accident loans
Intersection accidents
Speeding accidents
Drunk driving accidents
Drowsy driving car accidents
Hit and run accidents
Dangerous highway conditions accident
Brake failure accident loans
Defective tire accidents
Car accident legal funding are typically available to individuals who have sustained injuries in an auto collision, but there are many other reasons for which an individual may be eligible for these types of loans.
Lyft, and Taxi
Motorcycle accidents
Bike accidents
RV accidents
Commercial vehicle accidents
Dram Shop lawsuits (drunk driving / overserving accidents)
Harnessing the Potential of Car Accident Loans
Car accident loans can prove to be invaluable for individuals grappling with the aftermath of an accident. These loans offer a lifeline to those facing financial hardship due to lost wages and mounting bills resulting from another's negligence. Moreover, the funds from car accident settlement loans can be used to cover emergency expenses, such as food, rent, and medical bills. We provide this financial aid without requiring collateral, ensuring that you can access it when you need it most.
Plaintiff can use the funds to pay for
Medical & Hospital surgery bills
Legal fees & attorney expenses
Rent payments
Car loan payments
Mortgage Payment
General living expenses
When a plaintiff decides to settle their injury claim for compensation payments, we will use the repayment terms of their agreement.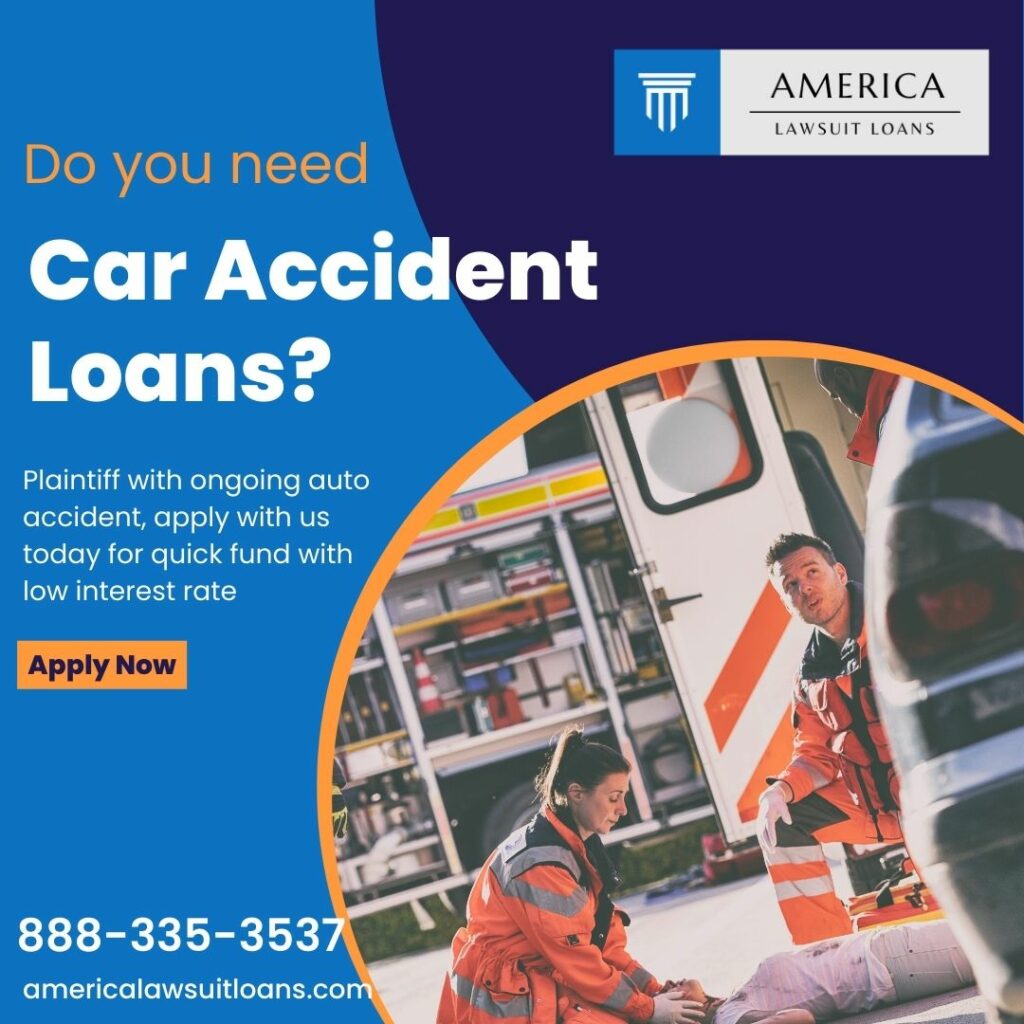 Empowering Yourself with Car Accident Loans
Car accidents can lead to significant financial challenges. On top of medical bills and living costs, you might be scrambling to afford essentials like a rental car or doctor visits. In such situations, car accident lawsuit loans can lighten your load.
If you're considering this option, get in touch with us today! Our team is committed to understanding your financial situation and working with you to determine the best course of action. Once we've charted the best path forward, we'll get everything moving on your behalf so you can reclaim normalcy sooner rather than later.
Car Accident Loans FAQs
What are car accident loans?
Car accidents happen every day. If you are unfortunate enough to be in one, then you will have unexpected and expensive bills. This can make it hard to cover your costs after an injury or damage of your vehicle from another driver's negligence. Fortunately, this is when car accident loans can help. These loans are for victims of these types of accidents to receive coverage for their costs and get back on their feet as soon as possible.
Are car accident loans regulated?
No. The loans are not regulated by either state or federal laws and there is no way to determine upfront if the lender has your best interests in mind. Car accident loans, which can cover things like deductibles and other out-of-pocket expenses for the person who was in an accident, come at a high cost of up to 25% APR.
Who Is Eligible for a Car Accident Loan?
In order to apply for a car accident loan, you must be injured in an automobile crash. The injury can be either physical or mental, and it's important that your injury was sustained in the accident. Mental injuries include post-traumatic stress disorder and depression. Physical injuries include whiplash, strains, fractures, and internal organ damage. If you've been involved in an auto accident where someone else is at fault (i.e., they were driving recklessly), then you may qualify for a car accident loan to help cover your medical expenses and other related costs while you recover from your injuries.
What is the interest rate on car accident loan?
The interest rate for a car accident loan is typically less than 12%. You may not have to put up any collateral, either. You only need to show that the value of your personal injury claim is likely worth more than that, and then send in receipts or purchase orders as proof if it is.
Can car accident lawsuit funding help me get a larger settlement?
It can take weeks or months for an injury claim to be processed. The slower the process, the less your client gets in settlement. This is why our company offers quick cash settlements to victims of personal injury accidents, so they are able to get back on their feet as soon as possible. You can use the funds to pay for good lawyers and build strong case, leading to a larger settlement.
Can I get more than one car accident lawsuit loans?
The short answer is yes. There are quite a few reasons why this is the case and one of those reasons is that there are various methods for receiving funding to help pay for your losses in an auto collision. It doesn't matter if your primary concern is medical expenses, pain and suffering, or lost wages - as long as you qualify, you can apply for help from one or more of these loans.
Do I have to repay even if I lose the car accident lawsuit?
No, since we provide non-recourse lawsuit funding meaning that if you are unable to win your case, we don't collect anything from you.
Are There Any Limits Or Restrictions On How I Can Use The Money From An Auto Accident Loan?
The benefits of an auto accident loan are unlimited. You are allowed to use your money as you see fit and don't have to worry about paying it back. This can help you during your time of need and allow you to rebuild what has been lost in an instant.
How long does it take for getting car accident loan?
Unlike other common loans, these cash advances are based off the type of damage sustained in an accident so getting approved won't depend on your credit history. Approved applicants can have funds deposited into their bank account within 24 hours, making this one of the fastest ways to find quick relief after a car accident.