Demanding compensation for the damages caused by the product's fault is the right of the consumer. But product liability lawsuits are expensive and time-consuming. In the meantime, you may need money for multiple reasons, like paying bills and managing legal expenses. Our company specializes in product liability lawsuit loans, where we give a cash advance to the plaintiff in an ongoing lawsuit in exchange for a portion of their future compensation.
In the US, one of the most common ways to get hurt is by a faulty product or medical device. Every year, hundreds and thousands of people file lawsuits against big brands and manufacturers for faulty products and false marketing. But most of the lawsuits take years to settle, so big companies try to delay the settlement and wait until the plaintiff has spent all their money and agrees to settle for lowball offers.
Use product liability loans and decline lowball offers from big brands.
We provide product liability lawsuit loans, which you can take right now and use for the expenses related to your case, strengthen your case, and have a surplus amount while you wait for the judgment.
Once you win the case, you repay our lawsuit loan company, and if you lose the case, you don't have to pay anything. It's a risk-free cash advance that you can take and use with no obligation.
There are several types of product liability cases that are eligible for lawsuit loans; below are the different product liability lawsuit scenarios:
Prescription medications
Defective kitchen tools
Transvaginal mesh
Failed pacemaker
Product liability lawsuit overview
Product liability lawsuits are a kind of civil action or litigation brought against the party or manufacturer involved in manufacturing a defective product. Most of the time, a product liability lawsuit is brought against the maker, the wholesaler, the designer, the retailer, and the distributor. If a brand or manufacturer gives a user a product that is defective, they are held responsible.
The United States of America is a consumer-driven economy where residents spend $10 trillion on buying products. Their spending may be on anything like food, clothing, machinery, tech gadgets, or luxury goods. A consumer product is meant to enhance the living standard, not deteriorate it. If a consumer product causes harm, the person who was hurt has the right to talk to an attorney and file a lawsuit.
Who can file a product liability lawsuit and against whom?
If someone gets hurt because of a faulty consumer product, the business, company, or corporation that made the product could be held responsible. They are accountable under the Product Liability Law. The Product Liability Law held businesses and brands solely responsible for manufacturing defective items. It safeguards the general public from harm due to defective consumer goods.
Take product liability lawsuit loans to cover legal expenses
The path to justice is full of obstacles since it may take years to sort out the case. And in the meantime, the plaintiff has to cover multiple unexpected expenses.
Our company understands how difficult it is for a plaintiff to wait for 3–4 years to attain compensation after the case is settled. As a plaintiff, if you are fighting the product liability case along with your attorney and require financial relief, you can apply for product liability lawsuit loans.
Benefits of taking lawsuit loans:
Simple application process
No credit checks required
Very few paperwork
Quick funds after approval
Risk-free cash advances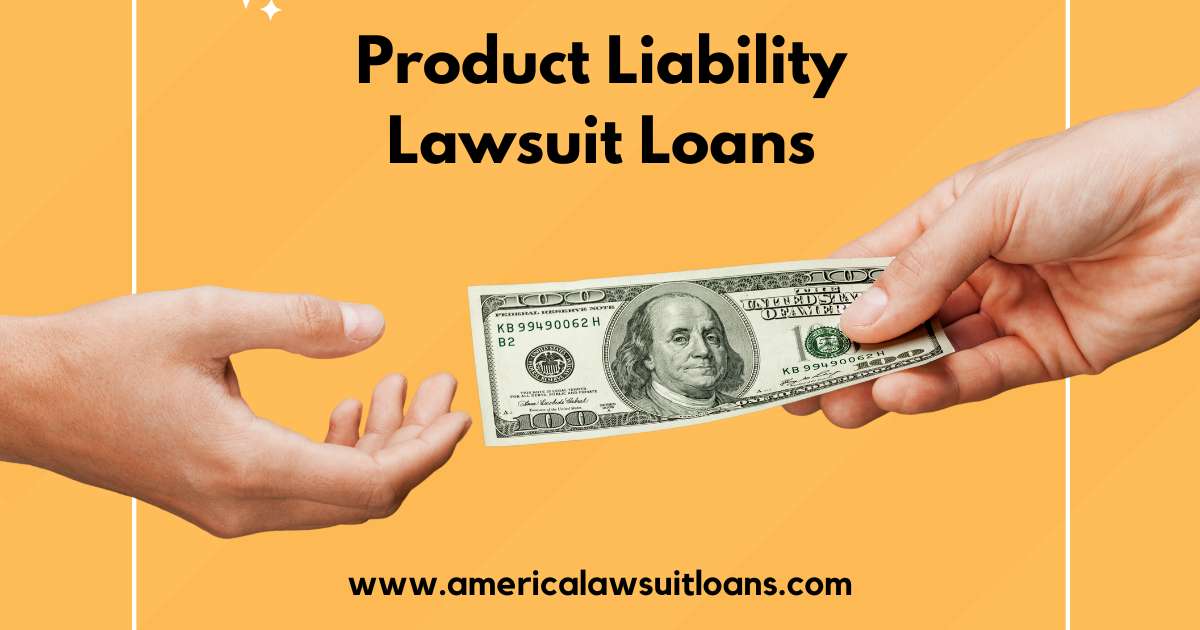 How can you use product liability lawsuit loans?
There are no restrictions on how you use the cash advance once you receive it from America lawsuit loans. But we suggest our applicant use it wisely. Most of the time people use product liability lawsuit loans to pay for
Medical bills,
Cover lost wages,
Pay for legal expenses,
Rent and mortgage payments
Pre-settlement funding interest rate for product liability claims
Interest rate completely depends on the applicant's case strength and merits, few more things that can affect the rate of interest are
The severity of the injury
Brand and manufacturer of the faulty product
Expected settlement amount and time
If you have a more severe injury and the expected time of settlement is low, the interest rate will be low. But if the expected settlement time is long, the interest rate may be high. The strength of the case plays a key role in determining the interest rate. If your case has a high likelihood of success, the interest rate on lawsuit loans will be low. To know the interest rate of a product liability lawsuit loan for your case, contact us at (888) 335-3537 or fill out the below application form.
Apply for product liability loans now!
People with an ongoing product liability case can apply for lawsuit loans if they need money while they wait for a settlement. Our lawsuit funding process is simple. You fill out our online application, provide us with your case details, and we can offer you a lump sum based on the strength of your case. The repayment is also very simple: if you win your product liability case, you pay us; if you lose the case, you owe us nothing.
Since we only fund a limited number of product liability cases that have higher chances of winning, hurry up to know if you qualify for a product liability cash advance from America Lawsuit Loans.