People who currently have an ongoing lawsuit in Hawaii may have to wait for years to get the appropriate compensation since the opposing party will try every trick to delay it. But you have to pay your bills on time, and our lawsuit loans in Hawaii can definitely help you during the time of financial crisis raised by personal injury lawsuits.
You can use the cash advance to avoid burdens like foreclosure, bankruptcy, eviction, or bad credit. You no longer have to settle for less just because you need urgent cash.
With a population of 1.4 million, Hawaii is the 13th largest state in the US and ranks 20th in fatal injuries per capita, making it one of the biggest reasons behind so many pending personal injury claims. And if you are one of the plaintiffs waiting for a settlement, lawsuit funding is for you.
We provide the quickest and easiest pre-settlement loans that you can take in exchange for a future reward and use the money to pay for any medical expenses or legal fees. Apply with America Lawsuit Loans for a low-interest cash advance by filling out the online form or calling (888) 335-3537.
Trusted Company For Lawsuit Funding in Hawaii
Since lawsuit loans are unregulated in Hawaii, it's best to work with companies that are more transparent and help plaintiffs with the money they need most during urgent times. We follow the best practices for legal funding with clear terms of payment.
Our lawsuit loans interest rate completely depends on a few instances such as
Type of Case
Strength of Case
Money Required
Expected Time of Settlement
Expected money from the settlement
If you have a strong case and merit for higher rewards, you can receive compensation quickly and at the lowest interest rate.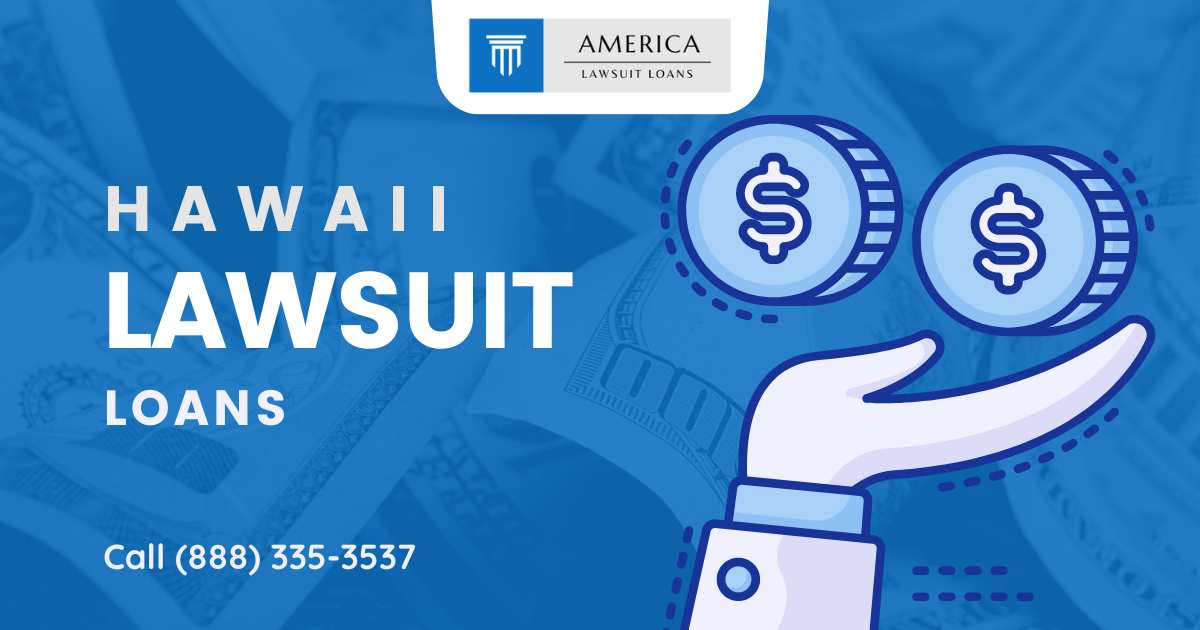 Cases we fund in Hawaii
We can provide Hawaii lawsuit loans for multiple types of cases that are eligible for funding. Check the list below
Check the complete list of cases we fund
Benefits of cash advance in Hawaii
Risk-Free
Many plaintiffs need money while they are in the middle of a lawsuit trying to find the best options available. Among the options are bank loans, credit cards, personal loans, and pre-settlement funding.
But pre-settlement funding is the only risk-free option for the plaintiff since you only need to pay if you win. And if you lose, you owe nothing to the pre-settlement funding company. But with other options of funding, you have to repay, even if you lose the case.
Quick And Easy
Applying for lawsuit loans in Hawaii is much easier than applying for loans elsewhere because we only provide funds to people with ongoing lawsuits. Furthermore, no credit checks are performed, which shortens the approval process because we fund cases that have the potential to be rewarded after the court order.
No collateral required
It's very tough for people to get money if they don't have any collateral to submit, but with pre-settlement financing, your pending lawsuit will act as the collateral. So if you win, you pay us a portion of the reward you receive, and if you lose, you pay nothing. People who have poor credit scores are also eligible for Hawaii lawsuit loans.
How can you use lawsuit loans?
Lawsuit loans from our company come with no obligation and the applicant can use it to pay for many things such as
Medical Bills
Surgeries
Credit bills
Mortgages
Home Rent
Car Repair
And many more.
Get the funds from America Lawsuit Loans
America Lawsuit Loans is a leading pre-settlement provider in Hawaii that specializes in quick and hassle-free cash advances. You can get the required money faster and in a more affordable way than others. It only takes a few minutes to apply, and after that, we assess your claim by connecting with your lawyer. We transfer funds in a few days after you are approved.