For anyone who is pursuing a personal injury claim in Nevada, we provide easy-to-get lawsuit loans that can help you pay the bills while you wait for settlement. Lawsuits are generally expensive and time-consuming; people have to wait for years to reach a final settlement. But in case you lost a job or suffered life-threatening problems because of an injury caused by someone else's negligence, you can't wait for years. Therefore, it is best to get lawsuit loans in Nevada for your regular expenses and repay the loan after winning the case.
Earlier, you had only a few options for relieving financial stress during a personal injury claim, such as bank loans, credit from friends, or depleting your savings. But now, with a pre-settlement loan, you have the option of raising money against your pending lawsuit. America Lawsuit Loans is a decade-old pre-settlement financing company that offers low-cost cash advances in Nevada if you have a pending settlement and are willing to get funds in exchange for a portion of your future reward.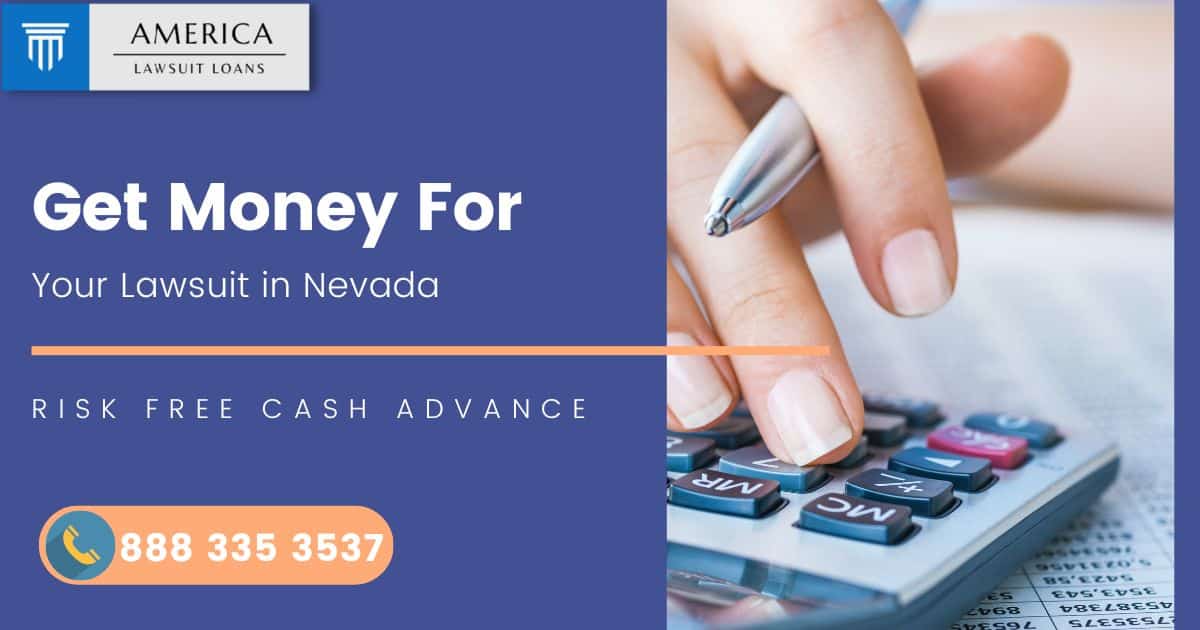 To apply with us, you need to fill out the online form given below or call us at 888-335-3537. Our executive will hear your requirements and process your application in a short time.
What is lawsuit funding?
In simple terms, lawsuit funding is a financial solution created for people with a pending settlement. Here, the lender offers a lump sum to the applicant in exchange for a portion of future settlement awards. These are non-risk funding options available in the market where a plaintiff can get money to pay for legal expenses while they wait for settlement money. It is risk-free and simple pre-trial financing.
Types of cases we can fund
In Nevada, lawsuit loans are legal, so we can fund multiple types of cases related to personal injury, car accidents, product liability, and commercial litigation. Check the complete list here:
In case you don't find your case listed, call us or apply online with your case type, and our executives will respond with the necessary information.
Who is eligible for lawsuit loans in Nevada?
Anyone with a pending settlement can apply for a lawsuit loan, but there is a certain criteria that you need to fulfill to receive settlement loans in the state of Nevada, and they are
Your age is 18 or above
You have a pending lawsuit.
You got injuries because of someone else negligence
An attorney is representing your case and works on a contingency fee
The strength of the case also plays a vital role in determining whether you will receive a cash advance or not.
What are the advantages of a pre-settlement loan?
In several personal injury cases, it's common that the other party will try to extend the case and settle it with lowball offers. Sometimes, if a plaintiff is left with no backup money to keep the lawsuit proceeding, they agree to take the offer. But now with a pre-settlement loan, you can have a proper financial backup and keep the settlement process going, waiting until you receive a fair amount. The best part is that you have no risk in obtaining a lawsuit loan in Nevada because your future award will be used to pay off the loans.
Further, an injury can lead to lost wages which can put an unnecessary financial burden, in those scenarios you can use the settlement loan to pay for the expenses such as
Medical bills
Surgery financing
Settle pending bills
Pay for utilities
In Nevada, lawsuit funding is a cash advance with no strings attached, so you can use the money for anything you want.
Why are America Lawsuit Loans so popular?
With lots of past experience working with litigants from all over Nevada, we understand your urgent requirements. Our team will keep everything fair and transparent. Here are a few benefits of taking lawsuit loan from our company
Easy to Get: We have made our lawsuit loan process very simple. All you need to do is give us a few details, such as name, case type, amount required, and attorney details. After that, we will connect with your attorney to assess the case's strength. Based on the merits of your case, you will receive low-cost lawsuit funding. It is that simple!
No Risk: We provide a risk-free cash advance since we give you a non-recourse structured settlement loan; therefore, even if you lose the case, you end up repaying nothing. Because we treat your lawsuit as collateral, the outcome of your lawsuit is the only guarantee we have.
Credit checks are not required: Most people can't get a loan from a bank because of a poor credit score, but with a lawsuit loan, there is no such thing as a credit check or employment verification. Even if you have a poor credit rating but your case has strength, you are eligible for a lawsuit loan from our company.
Apply for a lawsuit loan In Nevada and pay for your expenses
If you have a pending settlement in Nevada, we have a solution for you. Take a lawsuit loan and pay for the expenses like medical bills, legal fees, and other personal expenses, and repay the loan once you win the settlement. We try to offer the lowest interest rate to our customers. You can now easily pay for any surgeries that are pending because you haven't received the settlement money yet. With our lawsuit loans, you have all the possibilities open. You can get up to $500,000 in cash advances easily. Apply today and settle your pending bills.