California lawsuit loans are one of the best options you have if you're involved in a lawsuit and need financial assistance to cover the costs associated with it. Unlike other types of loan options, you don't have to prove your creditworthiness or provide collateral since the lawsuit proceeds themselves will be used as security for the loan instead. Also, lawsuit loans are different from other types of loans in that you can get one even if you have bad credit and can't get traditional financing.
How can you use pre-settlement funding in California?
Lawsuit loans are a unique form of financing specifically designed to help those who have filed a lawsuit in California and need cash to cover expenses while waiting for their case to be settled. Many people are unaware of the advantages of using a lawsuit loan, so let's take a look at how you can use one and some of its potential benefits.
Working process of CA lawsuit funding
To apply for lawsuit loans in California, you need to have a pending settlement that has higher merits of winning. You fill out the online form and based on the given contact information our executives will contact you to understand your requirements. After assessing your case type, we determine the loan amount. When you get a lawsuit loan, you are basically borrowing money against the possible settlement or verdict of your case.
The amount of the loan is usually based on how much you think your case will be worth, and the loan is backed by the money from your case. This means that if you win, the loan provider will be reimbursed from the settlement or verdict amount, and if you don't win, you won't be required to pay anything back. After you agree to the terms of funding, we can provide you the cash advance in less than a day, which gets the money you need during the long and often slow process of a lawsuit.
How can lawsuit loans help plaintiffs in California?
It can help cover important expenses such as legal fees, medical bills, living costs, and other related expenses. This can be a very important lifeline for people going through difficult legal cases who might not have access to these funds otherwise.
Also, lawsuit loans can help your case by giving you the money you need to hire expert witnesses, do more research, and put forward your best argument in court. This can make a significant difference when it comes to winning a settlement or verdict that covers all of your legal costs.
Finally, lawsuit loans are non-recourse loans, which means that you won't be held responsible for paying back the loan if you don't win your case. This can give you peace of mind, knowing that you won't be stuck with a large debt even if your case is unsuccessful.
Cases we fund in California
Anyone who has a pending lawsuit in California can apply for lawsuit loans and use them to pay for legal and medical expenses. Below is the list of cases that are eligible for lawsuit loans in California:
To check the complete list, check the CASES WE FUND page, or call us at (888) 335-3537 if you are not seeing your case type and let our executive explain the type of funds available for your case type.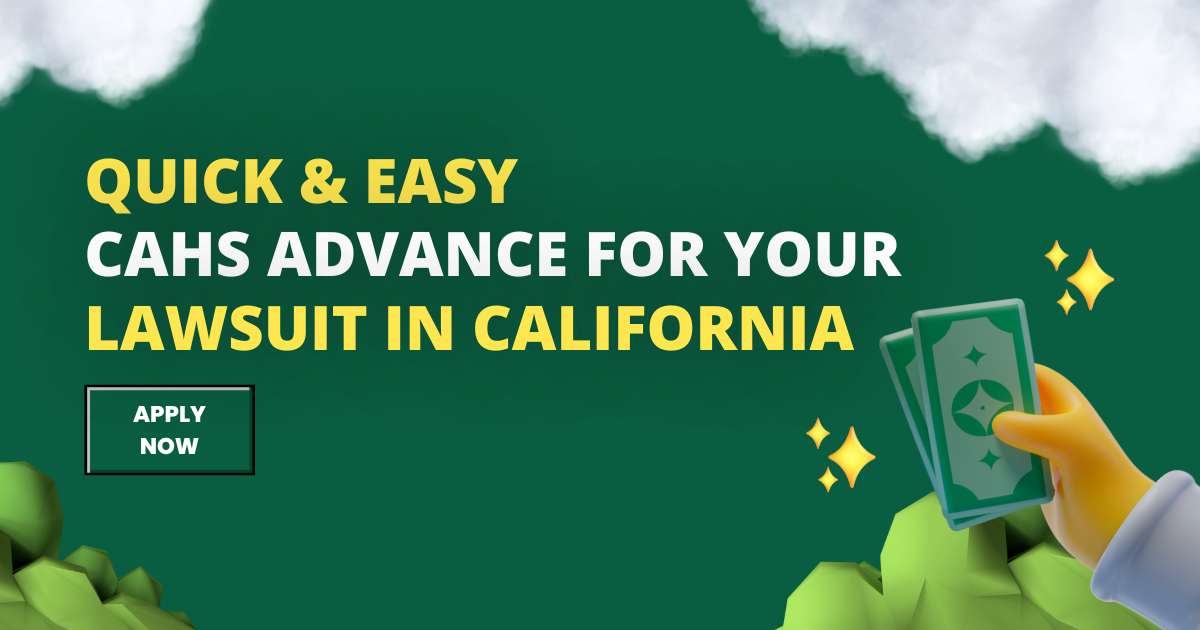 Benefits of risk-free cash advances in California
Lawsuit loans, also known as pre-settlement funding, can be an invaluable tool for anyone who is involved in a lawsuit. Lawsuit loans give plaintiffs cash advances that can be used for many things while their lawsuit is going on. With lawsuit loans, plaintiffs can pay medical bills, cover living expenses, and even hire experts to help with their cases.
One of the greatest advantages of lawsuit loans is that the money can be used for anything. Unlike traditional bank loans, lawsuit loans do not require you to specify what you will use the money for. This means that you can use the money however you wish, whether it's to pay your legal fees or to buy a new car. Additionally, because the funds come from a third-party lender rather than a bank, there is no need to worry about having a good credit score or other forms of collateral.
Also, lawsuit loans are non-recourse, which means that you don't have to pay back the loan if you lose your case. This makes lawsuit loans significantly less risky than traditional loans, as you will not be left in debt even if your case does not end in your favor.
In short, lawsuit loans are a great way for plaintiffs to get the money they need while their lawsuit is going on. Since plaintiffs can use the money for anything they want and don't have to pay back the loan if they lose their case, lawsuit loans are a unique way for many plaintiffs to get the money that they wouldn't be able to get otherwise.
Apply for quick lawsuit loans in California and pay pending bills easily
Our lawsuit loans can be a powerful tool for people who are in long court cases and need more money. We can provide access to the resources needed to strengthen your case and cover essential expenses while you wait for a settlement or verdict. If you're considering taking out a lawsuit loan in California, make sure you have an attorney working with you. Anyone with a pending lawsuit can apply for low-cost settlement loans and repay them once they win the case. To apply, fill out the below lawsuit loan application.