When you are involved in a legal dispute in Montana, the process of waiting for a favorable outcome can be long and grueling. You may be living with financial strain and stress as you wait for the court case to be resolved. Montana lawsuit loans offer a lifeline for plaintiffs by providing them with financial relief during their court cases and giving them a better chance at a favorable outcome.
Lawsuit loans are becoming more and more popular for people who need help paying their legal costs but don't have enough money. With America Lawsuit Loans, plaintiffs can get an advance on any future settlement or judgment. This lets them pay for their legal costs and makes life a little easier while they wait for the case to be resolved.
Pre-settlement loans can help with cash flow problems, give plaintiffs access to better legal representation, and keep them from having to settle their cases too quickly because of financial pressures.
Who is eligible for lawsuit loans in Montana?
Anyone who suffered injuries because of someone else's negligence, like a car accident, medical negligence, or any other, is eligible for a lawsuit loan in Montana. But not every applicant qualifies for a cash advance; there are a few criteria that you need to meet.
The applicant is 18 or above
You have a pending lawsuit
An attorney is representing your case in court
An attorney or law firm works on a contingency fee basis
Your case type is eligible for cash advance in Montana
If you meet all the requirements, getting a quick pre-settlement loan is easy. To understand better about the case type, check
Cases eligible for cash advance in Montana
Anyone who has a pending lawsuit in Montana can apply for lawsuit loans and use them to pay for legal and medical expenses. Below is the list of cases that are eligible for lawsuit loans MT:
To check the complete list, check the CASES WE FUND page, or call us at (888) 335-3537 if you are not seeing your case type and let our executive explain the type of funds available for your case type.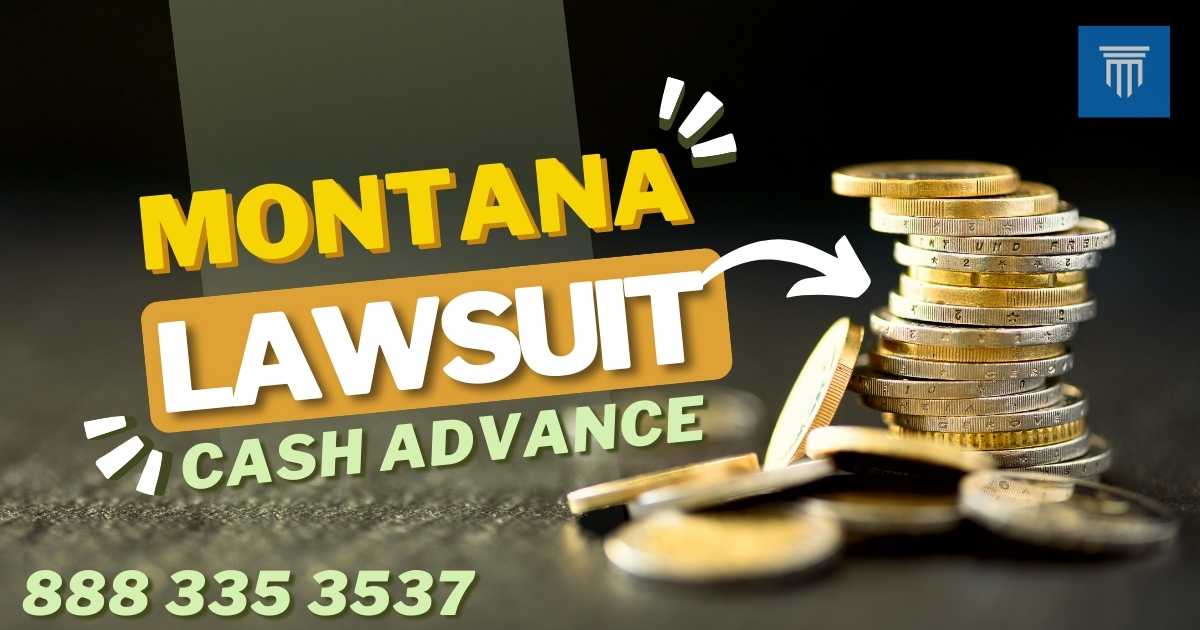 Benefits plaintiff will get from lawsuit cash advance
Lawsuit loans in Montana, also called "litigation funding," are a great choice for people who need help paying their legal fees but don't have enough money in savings.
In many cases, plaintiffs can't pay their legal fees upfront, which can make the case go in a bad direction.
With lawsuit loans, plaintiffs can receive a loan prior to the settlement of their lawsuit. This allows them to cover their legal expenses and give themselves a better chance of getting a favorable outcome.
There are several benefits to receiving a lawsuit loan, including:
Lower Stress Levels: When you don't have to worry about the financial burden of legal costs, you are able to focus more on your case and achieve a better result. This can make you feel a lot less stressed and let you focus on your legal case without having to worry about money.
Improved Chance of Winning: Lawsuit loans give you access to the funds you need to hire experienced lawyers and build a strong case. This gives you a better chance of winning the lawsuit and getting the best possible outcome for your case.
Fast Cash: Lawsuit loans offer fast cash, so you can get the money you need quickly to cover your legal expenses. This eliminates the need to wait for a settlement or judgment to receive the funds you need.
No Risk: Lawsuit loans are a non-recourse form of lending, meaning you will not have to pay back the loan if you lose your case. This eliminates the risk of owing money even if your case is unsuccessful.
Lawsuit loans are a great option for plaintiffs who need help paying for their legal fees and want to give themselves a better chance of winning their case. With no risk and fast cash, lawsuit loans can be incredibly beneficial for those involved in a legal dispute.
Interest rate associated with lawsuit funding in Montana
Interest rates on lawsuit loans in Montana vary from case to case and applicant to applicant. To better understand the interest rate, you need to understand a few things. Since lawsuit loans are non-recourse loans, there is no risk for the applicant, but the lender has to bear the losses if the plaintiff loses the case. Therefore interest rate of a lawsuit loan depends on multiple things, such as
Type of Case,
The severity of the injury,
Merit or strength of the case,
expected settlement reward, and
Expected time of settlement
To know the interest rate, our lawsuit loan company has to analyze your case first. If you want to know more about the lawsuit loan interest rate in Montana, call us at (888) 335-3537 or fill out the application below.
Apply with us today for a quick cash advance to settle your pending bills.
Our lawsuit loans are a great resource for plaintiffs who may be facing a lengthy lawsuit. We give plaintiffs cash advances so they can pay their bills and stay afloat while they wait for their cases to end in their favor. We understand the insecurity plaintiffs have to face while in a lawsuit, but our cash advance will act as financial security, allowing you to focus on the case rather than worrying about the financial situation.