Lawsuits in New Mexico are costly, and if you are currently in a lawsuit and need urgent funds to help cover your legal costs, then New Mexico lawsuit loans, or litigation funding, can provide you with much-needed financial relief during a difficult time. Lawsuit loans can provide peace of mind, reduce stress, and help you remain in control of your lawsuit since you get the required funds, which you can use to pay for pending bills and medical expenses.
Injuries because of a car accident or slip and fall—anything that is not your fault but caused lots of personal trauma and personal injuries—need to be fairly compensated. And it's obvious that the only possible route is through court proceedings, but lawsuits are expensive in New Mexico, and it requires a lot of money to pursue cases and get settlements.
Not everyone has a lot of money saved, and even if they do, they may have a bad credit score, but they need money now to keep things going while you are out of work due to an injury, and lawsuit funding is the solution.
Lawsuit loans, which are also called "pre-settlement funding," are a good option for people who are in a legal dispute and need extra money. These loans can give a plaintiff the money they need right away to pay bills and stay afloat until their case is over.
Eligibility criteria for New Mexico lawsuit loans
Anyone who has a personal injury case (with a high winning probability) qualifies for a lawsuit loan. But it is not limited to people with personal injury cases; even cases related to abuse, racial discrimination, property infringement, or any other commercial dispute can apply for lawsuit funding in New Mexico. In the next section, you can find the list of cases, but a few other things also to be noted to become eligible for a lawsuit loan are
Your age is 18 or above
You have an attorney working with you
The case is pending in court and not settled yet
Your case is strong and has a high chance of winning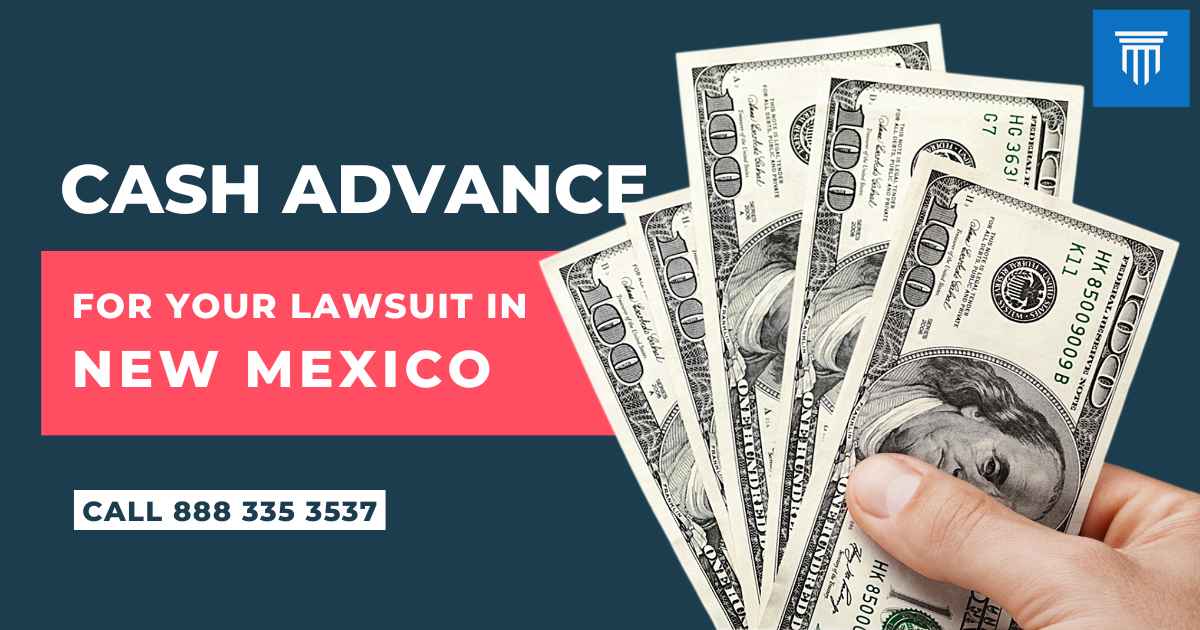 What kinds of cases qualify for a pre-settlement cash advance in New Mexico?
Anyone who has a pending lawsuit in New Mexico can apply for lawsuit loans and use them to pay for legal and medical expenses. Below is the list of cases that are eligible for lawsuit loans NM:
To check the complete list, check the CASES WE FUND page, or call us at (888) 335-3537 if you are not seeing your case type and let our executive explain the type of funds available for your case type.
How a lawsuit loan in New Mexico can benefit the plaintiff?
One of the major advantages of lawsuit loans is that you don't have to repay the loan if you lose your case. Unlike traditional bank loans, there is no risk of getting stuck with large loan payments if the case does not end in your favor. This means that even if you lose your case, you won't have to worry about paying back any money.
In addition to this benefit, lawsuit loans offer other advantages as well. Most of the time, they are much easier to get than bank loans and require less paperwork and fewer documents. Also, a credit check is usually not needed because the loan is backed by the possible settlement of the case. This makes lawsuit loans ideal for those with bad credit or who otherwise would not be able to get a traditional loan.
Finally, lawsuit loans are fast and convenient. The process usually takes only a few days, and the money can be received within days after approval. This allows plaintiffs to get much-needed cash right away so they can cover any immediate expenses associated with their case.
Overall, lawsuit loans in New Mexico offer numerous benefits and can be a great way to access much-needed funds when facing a legal dispute. They are secure, easy to get, and do not require repayment if you lose your case. They are an ideal solution for those in need of quick cash while waiting for their case to be resolved.
Lawsuit loans interest in New Mexico
The interest rate of lawsuit loans in New Mexico varies from case to case; we can only give the expected interest rate based on the knowledge of your lawsuit. The interest rate of lawsuit loans in New Mexico depends on a few things like
If your case is strong interest rate will be low
A higher expected time of the settlement period will have a higher interest rate
Case type also determines the interest rate
And the expected compensation amount is also one of the factors that determine the rate of interest on NM lawsuit loans.
Settle your pending bills; apply with the best lawsuit loan company in New Mexico
When you are in a legal battle, our lawsuit loans can be a much-needed financial lifeline. These loans are meant to help people who are having trouble paying their bills while their case is being worked out. They can be a great way to cover the costs associated with a lawsuit, such as medical bills, attorney fees, and other expenses. The primary advantages of applying with American Lawsuit Loans
You don't have to repay the loan if you lose your case
You can use the money for whatever you want
The interest rates are usually lower than other companies
You don't have to go through a credit check
There's no risk to your other assets
So, if you are part of a lawsuit and waiting for a settlement in New Mexico, apply with us for quick pre-settlement funding.