If you suffered a personal injury and need money while you have a pending settlement, we can help. People who have pending lawsuits for car accidents, medical malpractice, slip and falls, product liability or any other kind of personal injury can get lawsuit loans from us in North Carolina at the lowest interest rate.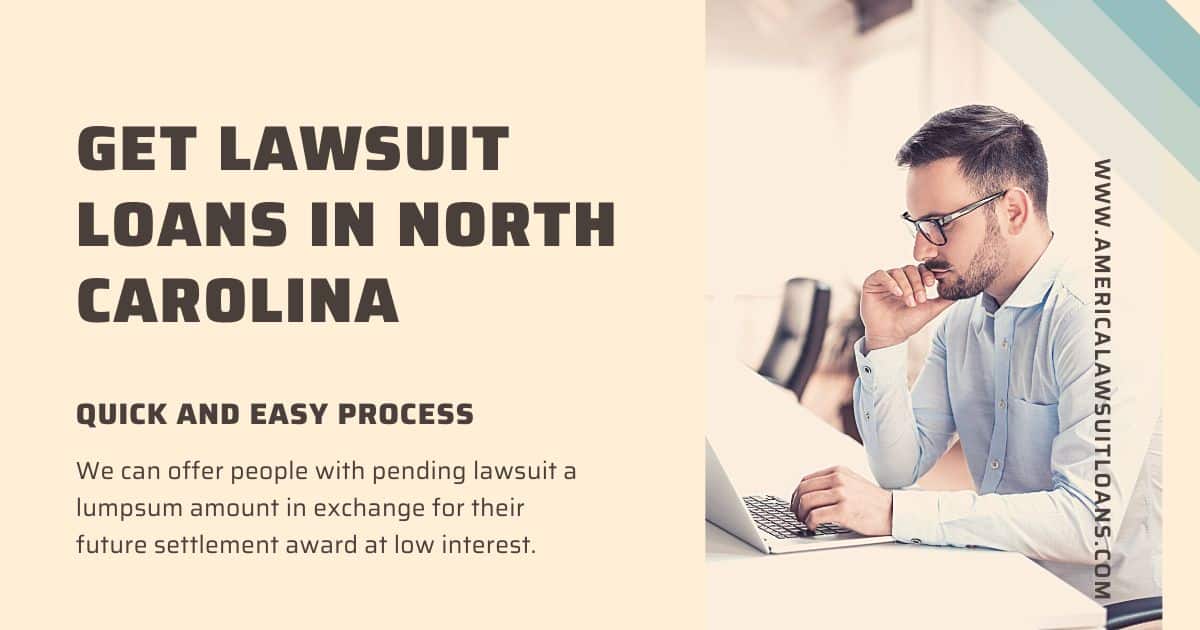 There is no doubt that lawsuits in North Carolina are expensive and time-consuming. If you have suffered injuries and lost your job because of them, you may run out of savings in a while. Further, if you decide to pursue a lawsuit, you will also need money in the meantime because personal injury claims can take months or even years to settle.
We can provide you with an easy cash advance in exchange for your future settlement reward. If you need lawsuit loans in North Carolina, then there is no better option than our firm. We are a decade-old trusted litigation funding company with more than a thousand approved lawsuit funding.
Who Can Get Pre-Settlement Lawsuit Funding in North Carolina?
Since it's clear from the type of financial service, only people with a pending settlement can get a lawsuit loan, but there are still a few more criteria that you must know. You can only get a North Carolina lawsuit loan if:
You are 18 and above
You have a pending lawsuit in NC courts
An attorney is representing your case in court
The attorney who is working with you works on contingency fees.
Further, since we only fund certain types of personal injury claims, you must verify whether your case type is available in the list of cases we fund.
Some common cases that are eligible to get cash advance from us are
NC Lawsuit funding process
Our company offers a very simple lawsuit funding process. You can get a cash advance in three easy steps.
Step 1: Complete the Online Application
To apply, you can either fill out our online lawsuit loan application or call us at 888-335-3537. You must provide us with your contact details, case information, and the contact information of your attorney.
Step 2: Wait For Approval
After we get the contact details of your attorney and your case type, we will connect with your attorney to understand the merits of the case. After assessing the strength of your case, we will finalize the amount that we can offer you as a lump sum. We hold all the rights to reject or accept any application.
Step 3: Sign The Contract And Get Your Money
After we decide to accept your application, we'll talk to you and your lawyer about the terms of funding. Once you agree to it and send us a signed copy, we will transfer the funds in the next couple of days. Getting a cash advance from our company is that simple.
Get Pre-Settlement Funding for Your Expenses During Pending Lawsuit
In many cases, when a plaintiff doesn't have enough money to keep the lawsuit proceedings going, the other party tries to take advantage of the situation. They will try delay tricks or offer a lowball settlement. But now, with the lawsuit loans in North Carolina, you don't have to settle for anything less than you deserve.
We offer non-recourse cash advances at America Lawsuit Loans; these are no-risk settlement funds provided specifically against your future settlement award. Therefore, you can have peace of mind knowing that you are in no new debt, and once you win the case, your settlement money will cover the cost of lawsuit loans.